Spotlight on Talent – Grace Morgan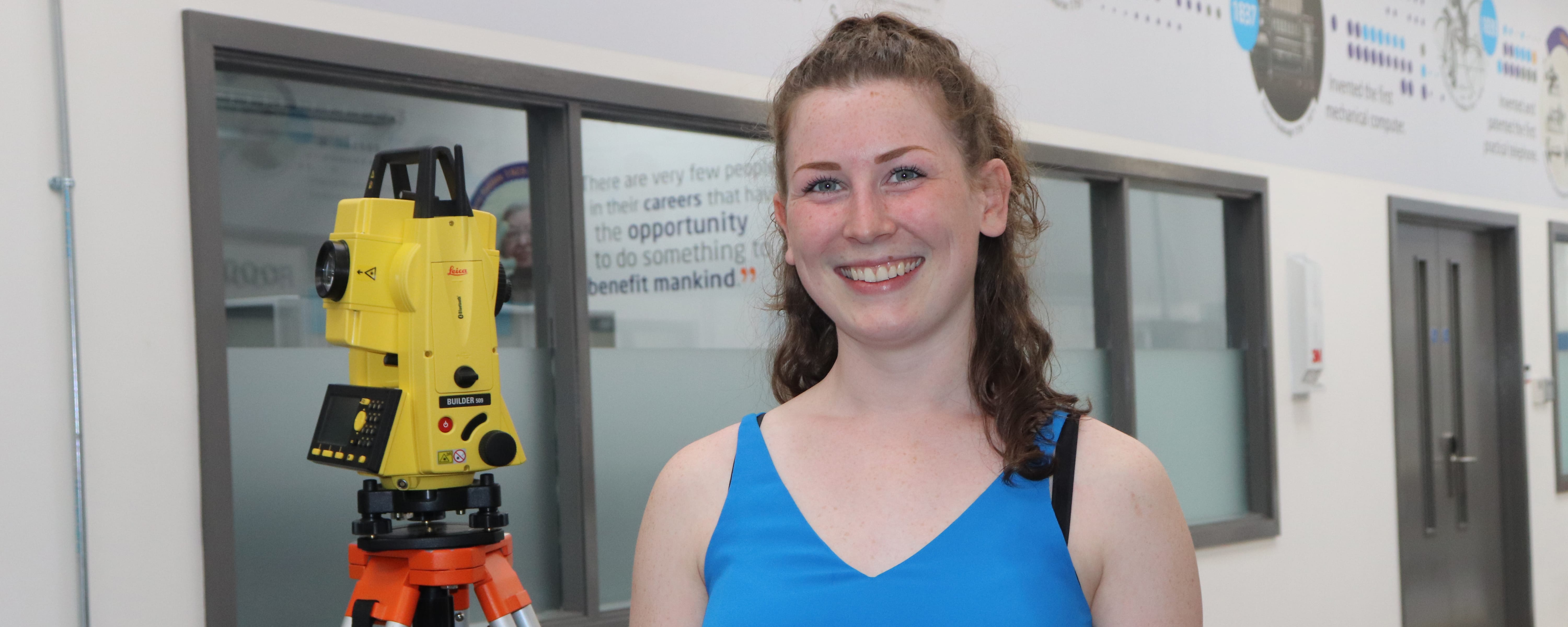 With her father owning a civil engineering business, Grace Morgan is following his footsteps while moving into another area of the industry. She is on the second year of a building surveying degree at Northumbria University after completing a Level 3 Construction course at Walsall College.
"I like to rewrite the rules and do things differently."
"I like to rewrite the rules and do things differently," said Grace. "It wasn't until the second year of college that I started thinking seriously about career choices and what I would study at university. While everyone else in my class talking about being architects, site managers and quantity surveyors. I found myself drawn to building surveying.
"A lot of people don't know much about this job, or that you can study it at degree level. I'm raising awareness."
Grace first began doing things differently when it came to her sixth form choices. A timetable clash of the A Level subjects that she applied for at school meant she would have to do something else.
"I'd planned on studying maths, psychology, geography and PE," Grace explained. "When I found out I couldn't do these, I realised that A Levels had never been right for me in the first place. I didn't really have a career in mind, apart from something involving construction. I saw this course online and spoke to my dad about it. When he told me that it would open up lots of carer avenues for me, I decided to get for it."
"I even look back now at college assignments and use the information from these."
Grace values her time at the college for providing her with an in-depth overview of the construction industry and the opportunity to complete a work placement with a Birmingham construction firm.
"College taught me more than the foundation principles of construction," she continued. "We covered so much that when it came to uni, I knew more than a lot of the other students on my course that had come from A Levels. I even look back now to college assignments and use the information from these."
Grace compares the work of a building surveyor to that of a doctor, playing her part in the lifecycle of a building, from beginning to end.
"I would be involved before the building even went up on site," she said. "The after care and maintenance would be down to me as well."
The variety of opportunities within building surveying is also something Grace finds appealing.
"You can work with commercial or residential properties, both of which have their own challenges and opportunities. And you can go from one of the other. Not only that, you can change roles and becoming a site manager. There are so many choices that it's easy to find something that interests you and that you can get fully involved in."