Spotlight on Talent: David Langley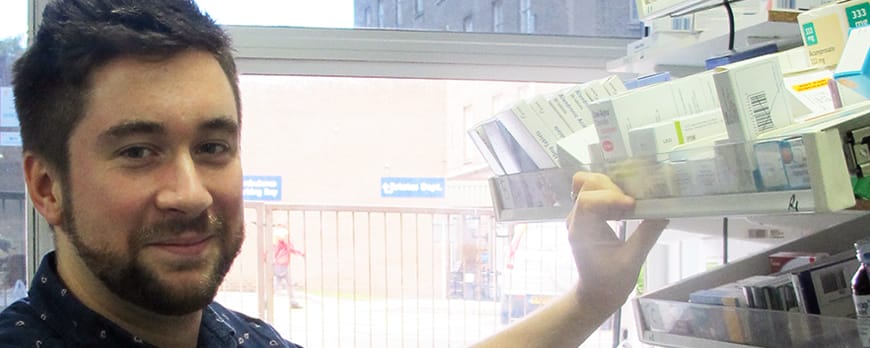 Studied : Apprenticeship in Pharmacy – Level 2 and 3                                                                                                                Progression : Pharmacy Technician at Queen Elizabeth Hospital Birmingham
David began his journey as an administration apprentice for the Birmingham library, however, his father – who works in the NHS – advised him to follow an apprenticeship route into healthcare, as the career opportunities could be greater.
"I decided to take my father's advice and after completing my apprenticeship at the library I undertook an opportunity to work as a volunteer in a community pharmacy."
David's experience supported his applications in gaining a Level 2 pharmacy apprenticeship at age 26, working in the Pharmacy department at the Royal Orthopaedic Hospital in Birmingham.
"The idea of having so much responsibility without any prior experience can be daunting. It would have been easy for me to shy away from the world of work, but I found that the apprenticeship route provided me with support in the industry. My assessor Jo Causer, who has worked in the Pharmacy industry for many years, helped me to settle into the apprenticeship and work environment."
A year later, David moved onto the Level 3 apprenticeship, which enhanced his confidence, and helped him to expand his responsibilities and knowledge for dispensing.
"I feel I have benefited from the apprenticeship programme, as it has opened my eyes to possibilities and future jobs roles within the NHS, whilst gaining hands-in experience."
I have learnt a lot quicker by throwing myself into the apprenticeship. Working from the ground up as helped me to appreciate the bigger picture when working for the NHS in the pharmacy department."
Towards the end of David's Level 3, he became aware of a job role at Queen Elizabeth Hospital in Edgbaston as a qualified Pharmacy technician. He was successful in attaining the role and now plans to work towards becoming a Ward Based Technician.
"This would be a step up for me in my career, as I would have full responsibility for dispensing medicines to patients across the wards in Queen Elizabeth hospital.
I've thoroughly enjoyed my apprenticeship with Walsall College. I loved the training sessions at the college, and I find working in healthcare very rewarding. There is so much variety in pharmacy and I like the ethos and structure of the NHS.
I wouldn't be here without the support and guidance of the College, my assessor Jo Causer and the colleagues I have worked with so far."