Pride of Britain Award winner shares his story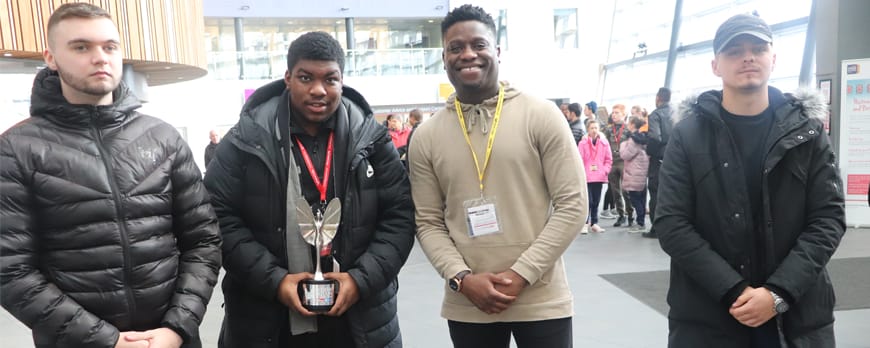 A Pride of Britain and Prince's Trust Award winner who turned his back on a life dominated by gangs, weapons and crime to become and entrepreneur and youth mentor shared his personal journey with Walsall College students.
Hezron Brown from Birmingham now runs the company, More Talk More Action.  He spoke to around 200 students about the importance of being aware of your life choices and changing your situation if necessary.
After becoming homeless at the age of 11 and dropping out of school at 15, Hezron got involved with a gang and caught up in violent situations and illegal activities.  It was after he avoided a lengthy prison sentence that he realised this lifestyle was holding him back.
He joined a Prince's Trust Get Started with Theatre programme at the Birmingham Rep Theatre and then completed a variety of training courses to improve his job prospects.  He became a Prince's Trust Ambassador and later a youth worker and motivational speaker.  His organisation now supports young people across the area.
In October 2019, he won the Prince's Trust Young Achiever Award at Pride of Britain.
Luki Poonia, Deputy Safeguarding Lead at the College said: "Hezron's story resonated with all our students.  This is why it was such a privilege to welcome him to the college.
"The way he successfully turned his life around is incredibly inspiring – a real example of what can be achieved when you take control of your situation, no matter how challenging the circumstances might be."