Mini plumbing industry expo comes to Walsall College
A mini expo for plumbing students was hosted at Walsall College with the support of industry suppliers.  Representatives from Wolseley UK, Adey and Altecnic gave demonstrations and talks on how plumbers can source equipment, tools and accessories for their work.
Wolseley also explained how students can set up an account with them and procure goods whilst gaining valuable advice from experienced colleagues behind their local Plumb & Parts trade counters.
"The showcase was designed to introduce students to the process of liaising with suppliers and building mutually beneficial partnerships going forward," said Nikki Steadman, Curriculum Delivery Manager for Plumbing at the college.
"It's never too soon for students to start thinking about the specific products they will use and brands they might affiliate with once they are fully qualified and 'on the job'.
"The students had their eyes opened up to vast amount of specialist equipment, chemicals and parts used by plumbers across the industry.  It reinforced to them just how much additional knowledge and experience is needed in this area as they complete different jobs going forwards."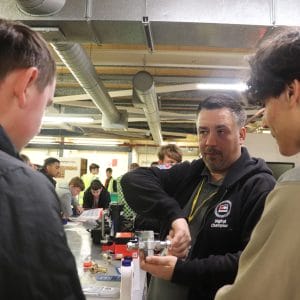 Catriona Smallman, Midlands Account Manager at Wolseley UK said: "My colleagues and I really enjoyed meeting the students and helping them on their journey into our industry, We are passionate about supporting the next generation of plumbing and heating specialists, supporting them with  industry knowledge and helping them understand the cost, functionality and availability of materials and how these can impact the cost of the job and an overall quote they would present to prospective clients, which is a key part of running a business in this sector.
"We look forward to working more closely with the students and the college over the coming months as we continue sharing advice on the products and services available to them."
Paul George, Key Account Manager at Altecnic added: "It was a great pleasure attending the college and showcasing our market leading products to these future plumbers/engineers.  I'm looking forward to presenting our future ranges to them in the coming months."