Mental health comes under the performing arts spotlight
Performing arts (acting) students at Walsall College have used their musical theatre skills to help raise awareness of a range of mental health issues.
The Level 3 year 1 students gave two performances of 'This is me'; a musical play written by performing arts tutor, Sarah Morgan.
Centring around a group attending weekly therapy sessions, it explored mental health issues, statistics, treatments and the impact poor mental health can have on peoples' lives.  The play is set against a backdrop of glitzy cabaret songs featuring West End hits from Chicago, Cabaret, The Greatest Showman, Dear Evan Hansen and Moulin Rouge.
Commenting on the show, Sarah said "We have seen a huge rise in mental health issues across all people of all ages since the pandemic.  I wanted to create a show that enabled our students to explore this while developing their musical theatre performance skills.
"We offered a tutorial-style performance that educated our audiences about the provision of mental health services in the Walsall area, as well as entertained them."
When writing the play, Sarah drew on her past experience running a community choir in Walsall.  Its members included people suffering from anxiety, cancer and bereavement among other conditions and they had been referred to the choir by GPs as part of their treatment plan.  Sarah saw first-hand the healing benefits of performing within a supportive group.
Sarah continued: "The play is inspired by the choir and we mention local provision from Rethink.org, The Samaritans, Black Country Women's Aid, Aldridge Shed, Caldmore Community Garden, St Giles Hospice and CALM space.  Sadly, the statistics speak for themselves in the play about suicide and mental disorders, but we hope we have made people think and consider reaching out for help.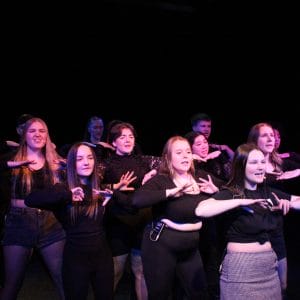 Sarah added: "I have been so impressed with how our Year 1 acting students have dealt with the content of this play and their commitment and passion for the project. They have been amazing to work with and we have enjoyed every aspect of developing this show.
"It has also been a collaborative approach within the College with media students filming our show through 'Future Flames productions', our Level 3 Photography students capturing headshots or rehearsals and creating our poster design.
"Our Digital academy created our stage letters, HNC performing arts students worked as technicians on the show and our Level 2 and Year 2 Level 3 actors worked as box office and Front of house attendants.  Students from across a range of courses saw the show so it's been an industry-style experience for all."