Hair and beauty students share care with local carers
Beauty and hairdressing students from Walsall College showed their appreciation for the work of local carers by providing pampering services at a community event.
Manicures, mini hand massages and hair styling were provided at an event held in partnership with Walsall Council and Forward Carers who leads the Walsall Carers Hub service. The event took place at Walsall Town Hall on Carers Rights Day; a national awareness day led by Carers UK as a way of ensuring carers can find out about the help and support they are entitled to.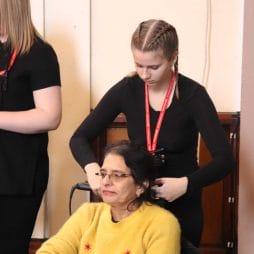 Joanne Small, Curriculum Manager at the college said: "Our students were happy to be part of this event.  They saw it as a meaningful way to give back to the community in a professional as well as personal capacity, especially as this is a group of people whose work is not always fully recognised."
She continued: "As trainees in an industry that is all about self-care, well-being and confidence-building, they relished the opportunity to help these carers take time out and let someone else take care of them.
"The 24 Level 2 students involved were able to develop their client communication skills and enhance their experiences of working with different people; something that will boost their expertise going forwards."
Chantell Marler, Head of Service at Forward Carers said: "It was wonderful to have the students from Walsall College at our event. Carers enjoyed some relaxation and respite from looking after either a friend or family member, and the students gained hands on experience and a chance to develop their communication skills. We hope to continue this relationship with the college in the future."