Employers to get a cash boost for T Levels industry placements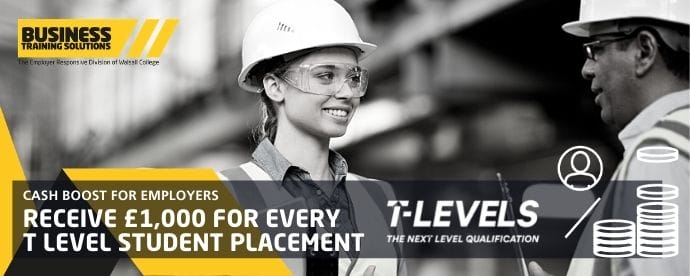 Employers will be able to claim a £1,000 cash boost for every T Level student they host on a high-quality industry placement up until 31 July 2022.
The new technical qualifications - co-created with over 250 employers including Fujitsu and Amazon – are equivalent to three A Levels and uniquely combine classroom study with industry placements.
T Levels are a key part of the government's reforms to revolutionise skills and technical education, generating the skilled workforce that businesses need for the future and giving students the experience they need to progress into well-paid jobs, further study or an apprenticeship.
Industry placements form a key component of T Level courses, with students spending at least 45 days (or 315 hours) with an employer. They offer local businesses an excellent chance to nurture and build a skilled talent pipeline for the future, while helping to level up opportunities as we recover from the pandemic. Students gain vital hands-on experience and invaluable insight of the world of work, setting them up for success in the next steps of their career.
Minister for Apprenticeships and Skills Gillian Keegan said "T Levels are a game changer for young people, providing a fantastic high-quality technical alternative to A levels and helping to produce the skilled talent pipeline of tomorrow as we recover from the pandemic.
"Employers are already recognising the value hosting a T Level industry placement can bring to their business, helping them to build the skilled workforce they need for the future. This temporary cash boost will help even more employers to experience the benefits, while also providing young people with invaluable first-hand experience in the workplace."
Jatinder Sharma OBE, Principal and Chief Executive at the college said: "To help business build back better after Covid, we're making it our priority to have an 'Employer in Every Classroom' and this cash incentive could really help with that.  It's what businesses need in order to re-evaluate and return, stronger than ever.
"We're already working with the likes of big employers like Balfour Beatty VINCI in making sure we do not face any further skills challenges while looking ahead.  They've worked very closely with us in ensuring the industry placements we have co-designed are suited to industry requirements."
Naomi Bates, SEE Business Partner for Education and Careers at Balfour Beatty VINCI said: "By enabling these students to gain hands-on experience with us and potentially progress on to apprenticeships, we are encouraging the creation of a more diverse workforce to better represent and serve our future customers.
"We know there aren't enough people entering the sector," continued Naomi.  "If we are to meet the demands of future construction and infrastructure projects then we need to adapt our approach to recruitment and development.
"Balfour Beatty VINCI is going to be in the West Midlands for a long time, so to even just put that little seed in these students' minds that they can have a career with us is amazing."
Employers interested in taking advantage of this new T Level incentive can contact the business training solutions team by emailing businesstrainingsolutions@walsallcollege.ac.uk