Eid-al-Adha event experienced and enjoyed by all
Muslim students and staff at Walsall College all described how happy they were seeing their college community taking part in their Eid-al-Adha celebrations with them.
An event on campus saw over 200 people hear a student-led presentation about the festival, known as the Feast of Sacrifice.  They also observed a special call to prayer led by motor vehicle student, Abdul Rashad and protective services student, Halid Amponsah.
Following the prayers and a recitation from the holy book, the Quran, samosas, shortbread biscuits in the Eid themed design of moons and stars (made by hospitality and cookery students) and sweets were shared out.
Computing lecturer, Shameena Haroon who initiated and helped organise the event said: "The college is incredibly diverse and we take every opportunity to understand more about the different faiths, beliefs, cultures and identities we follow.
"We also encourage our students to be free to express who they, providing them with the platforms to do so.  Our event is an example of this, especially as it gave some of the students involved the confidence to come forward and interact in a way they might not have felt able to do before now."
This was the first time the college and the Students Union had organised an event for this festival which is one of the most important in the Muslim calendar.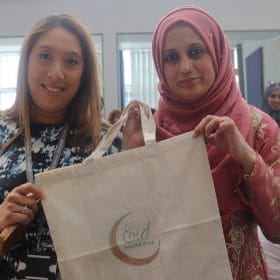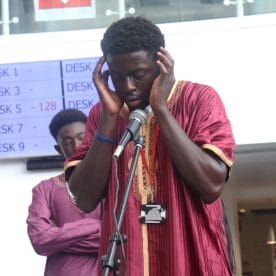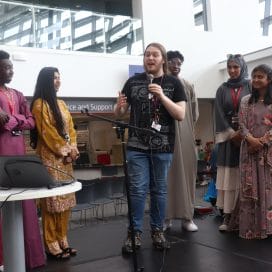 Additional activities that took place included henna art, as well as creating Eid designs on paper and on personalised canvas bags. Eid badges were also made, along with other items. All foods and activities in this event were free to all staff and students.
"Everything about this day was special," said Halid. "I never imagined so many people would watch me leading a call to prayer.  It gave me a feeling of belonging."
Other student volunteers also said they would like to see more college Eid events taking place.