Chef shares Indian home cooking skills with hospitality students  
Student chefs at Walsall College can now choose a home cooked Indian meal over a takeaway after completing a cooking school masterclass.
Lajina Leal, owner of Lajina Masala took students through starter, main and side salad recipes, sharing hints and tips along the way around how to use different spices.
Following her cooking demonstrations, the Level 2 students worked in pairs to replicate all three dishes.  These were a chicken homestyle curry with quick spiced fried rice, along with a bhel puri salad and roti.  Lajina also showed the group how to create a yoghurt and mint dip and tamarind chutney.
There was also time to squeeze in chicken tikka cooked in a Tandoor clay oven.
Commenting on the students' skills, Lajina said: "I was pleased to show the students some of the 'essentials' around Indian cookery.
"Learning how to make flatbreads from scratch was something I was particularly keen for them to do.  There's a basic recipe for this and it makes even the simplest of meals something extra special."
Lajina added: "On the whole, I think they enjoyed experimenting with different flavour combinations and how these affect the palate.  Hopefully this will inspire them to develop their own recipes in future."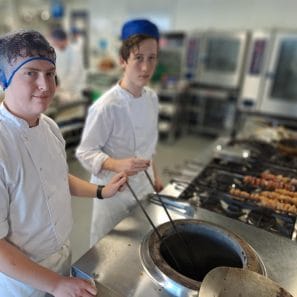 Lecturer, Steve Biggs added: "Lajina's cookery class was a revelation for many of our students, many of whom had never cooked any Indian dishes before.
"They were also reminded of some of the principles around home cooking, such as making something together as a family or creating a personal recipe book of dishes that works as an alternative to the dishes produced in a professional kitchen.
"Our thanks go to Lajina for inspiring students to come out of their comfort zones and explore new ideas."