Dr Who and Doc Martin star is Walsall College 'actors studio' guest
One of the UK's most recognisable stage and screen actors was the VIP guest of acting and creative media students at Walsall College.
Ian McNiece, who played Burt Large in ITV's Doc Martin and appeared as Winston Churchill in BBC's Doctor Who (Matt Smith era) gave an industry talk to an audience of 200 students about his many film, TV and theatre roles.  He presented showreels of his prolific work, answered audience questions and chose the winners of a science fiction and scary movie-themed cosplay (costume play) competition.
Commenting on his visit, Ian said: "I'm a huge advocate of aspiring actors, directors and writers honing their craft in drama and film school settings and so I was delighted to see how the college's students are experiencing this environment.
"They impressed me greatly with the scope of questions they put to me; some of the most varied and imaginative I've yet to come across.  I wish them well in their future endeavours."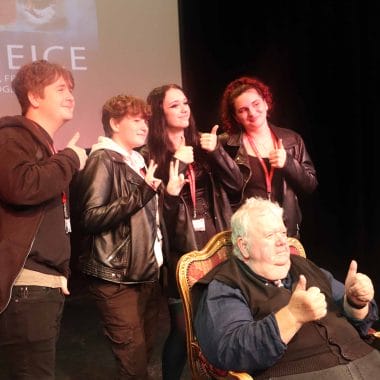 Ian is next appearing with Joaquin Phoenix in upcoming blockbuster, Napoleon.  The students heard about this and his experiences on movie sets with Hollywood stars, Jim Carey, Tom Cruise and Johnny Depp as well as directors, Ridley Scott and Milos Forman.
Insights were also shared on the differences of working in theatre and on a film set.
Jewell Woolley, an acting student was one of many queuing for selfies and autographs after Ian's talk and Q & A session.
"It was amazing hearing from someone who's built up an amazing and varied career and who's still doing new things," she said.
"The experiences he shared bought home to me just how intensive acting can be.  It threw me when he described having to film 35 takes for just one line of dialogue.  It's helped me appreciate theatre performance a lot more where you've got one shot and you can improvise so much more."
Josh Moule who studies creative media received a signed Doctor Who DVD from Ian as one of three CosPlay competition winners.
"My ambition is to be a writer and director so everything Ian said confirmed that being true to yourself and by treating others well, you'll get better results from your cast and crew so that's how I'll keep approaching my work in future.
"I found him really inspiring because of this."
Further information about our performing arts courses can be found here and our creative media course information is here.