Bollywood and Pollywood movie makers on location at Walsall College
It's been 'International Lights, Camera, Action' at Walsall College.  Companies from Bollywood and Pollywood (the Punjabi equivalent) have used the main campus as a location for two upcoming movies.  This has provided students with opportunities to get involved behind the scenes and in front of the camera.
Creative media and performing arts students worked with the cast and crew on thriller, Mystery of Tattoo.  It included some of them appearing as extras in scenes with actresses, Daisy Shah and Kashish Khan.  Even College principal, Jatinder Sharma got involved through some walk-on parts.
The college then welcomed the cast and crew of Valait starring Punjabi singer and actor, Jazzy B.
"This has been a 'once in a student lifetime' experience for our students and a coup for our in-house company, Future Flame Productions," said creative media lecturer, Melissa Tisdale.  "Working with professional filmmakers exposed students to the international genre's specialist production processes and styles.  It also showed them how focused and flexible production teams have to be to meet deadlines, especially when they're on location.
"Everyone enjoyed getting involved and we're looking forward to the release of both films."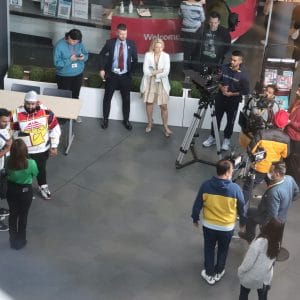 Performing arts student, Tyrelle Scarlett spent time assisting the Mystery of Tattoo film crew.  He supported everything from moving props to setting up some of the lighting.
"Acting is my main passion, but I wanted to work behind the scenes to get an idea of the set ups involved in location shoots and just see how things came together," he said.  "It was a great way to experience a different side to film-making.  And it was fun."