Student barber achieves competition win with red carpet creativity
A Walsall College student barber has been named a winner in the Concept Hair Learner of the Year competition.  Jack Bradshaw won the Level 3 Barbering category sponsored by Wahl with a red carpet look created in 35 minutes.
Commenting on his success, 18-year-old Jack said "The competition standard was so high that I was happy just to have taken part.  I was very much 'in the zone' once I got started and afterwards I felt my cut was good, especially as my model was also happy with it.
"Being named a winner is a huge achievement that I know will help me stand out once I turn fully professional.  I'm grateful to the college for their support."
Jack, who achieved his Level 2 barbering qualification with the college last year added: "I would definitely encourage other barbers and hairdressers to get involved in competitions like these.  While I feel able to look at someone's hair and build up a picture of what will look good on them, the real secret to performing well is to also believe in yourself and trust your instinct."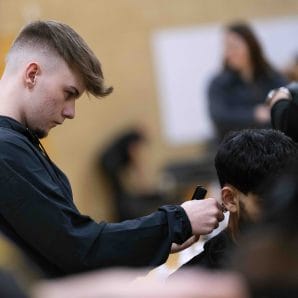 Jack was one of six category finalists and over 2,000 entrants for Concept Hair Learner of the Year 2023.  His task was to create a stylish celebrity look with hair being wet, blow dried and styled following a 2cm cut from the whole head.
Jack's achievement follows on from Walsall College's success with the 2022 winner, Amelia Jahanpour.
Curriculum Manager, Joanne Small said: "Competitions like these are a fantastic way to inspire and enhance our learners' training and put them in the company of many industry leaders.  We couldn't be more thrilled for Jack who is definitely one to watch in future."