Spotlight on Talent – Josh Lake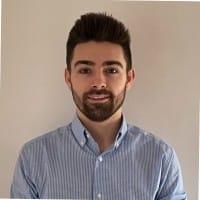 Studied: HNC Construction
Progression: Quantity Surveyor, PCE Ltd
The things Josh Lake enjoyed most about his HNC Construction course were the exposure to 'real life industry examples' and the opportunity to complete assignments to match the knowledge and skills he was gaining in class.
He was then utilising this expertise during his Apprenticeship with Makers Construction.
"As an apprentice, you're able to apply what you learn in the classroom to an actual work environment, which cements your knowledge and understanding much better," said Josh.  "My mindset and understanding improved greatly."
Although Josh had been interested in construction from a young age, it wasn't until after he had completed his A Levels and was looking at career paths that he became drawn to roles in project management and surveying.  On joining Makers Construction in 2016 he was encouraged to study a HNC qualification at Walsall College.
While Josh found it challenging to strive for the best grades, ensure the quality of his work didn't slip while still enjoying a personal life, he was delighted when his all his efforts paid off through his Distinction Star grade.
He followed his HNC qualification with three years of part-time study at Birmingham City University, coming out with a First in his Quantity Surveyor degree course.
"I would definitely encourage others to study higher level education at Walsall College," continued Josh.  "The HNC gave me a brilliant stepping stone onto a university degree.
I have upmost respect for the college lecturers that taught me throughout my two-year HNC course.  The skills they gave me and lessons I learnt have been invaluable in my career so far."
Josh started as a trainee quantity surveyor in 2016, joined PCE Ltd in 2020 and has been working as a fully qualified quantity surveyor since August 2021,
"I enjoy the travelling and seeing and understanding new sites and projects," he continued.  "Getting to grips with the financials of a project inside out is something I really enjoy.  That's probably my favourite part about the role.
"You as the QS are the financial gate keeper for a project and collectively with your project manager, you control the project and steer it in the right direction to ensure that you minimise any wastage and maximise margins and returns."
Josh aims to become a senior quantity surveyor and then after gaining further experience hopes to move onto being a commercial manager/director.
"Experience is very important and invaluable," said Josh.  "Although I have a progression plan that I am working to, it's important to appreciate the experience required and not to try and rush anything. "