Spotlight on Talent – Ewan Taylor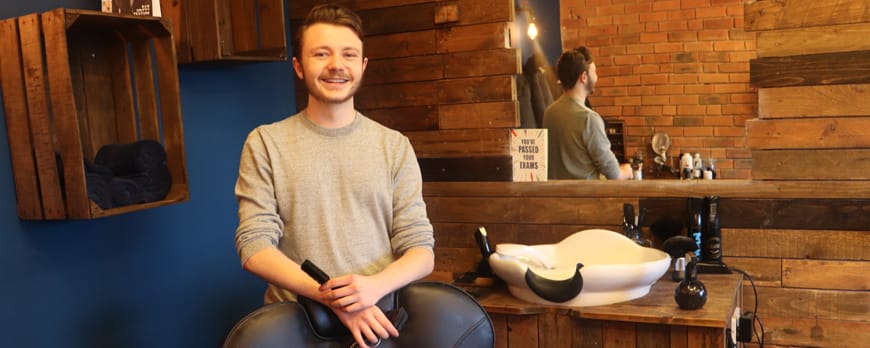 Studied: Level 2 Barbering
Progression: Self-employed barber
As a sixth former, Ewan Taylor would often spend time watching barbering videos on YouTube.
It's why an Apprenticeship in barbering seemed to be the ideal gap year option for him when he started having doubts about going to university to study sports coaching and psychology.
"I had begun to see barbering as my creative outlet," Ewan explained.  "I was doing my mates' hair for them before they went on a night out.  I noticed how good it would make them feel about themselves and it made me realise that I could make something out of being a stylist."
Having completed work experience at a salon in Cannock, Ewan was fortunate to be taken on by them as an apprentice.
"The idea of coming out of uni with no job prospects in sight had seemed a bit scary to me," Ewan continued.  "The Apprenticeship has been the better option for me.
"You're paid to learn and you receive excellent training."
After his Apprenticeship, Ewan decided he wanted to be in a position where he was renting his own chair at another salon.  He immediately joined Blue Suede Barbers, a business recently opened by his former colleagues, Katie and Ben.
Ewan thoroughly enjoys being self-employed.
"I love being in control of my schedule," he said.  "My work life is more flexible and I've benefitted more financially.
"I also get to be a more flexible barber.  My clients go from being 18 to 85-year-olds."
He added: "I took the leap from salon apprentice to being self-employed quite soon, but I felt the time was right for me to do it."
Ewan is keen to keep improving and developing his craft.
"I don't think you ever stop learning," he said.  "And going forward, I like the idea of being able to teach others.  I'd encourage them to put the work in, ask lots of questions and keep finding ways to get better at what they are doing."