Cracking the code to a career in IT, computing and digital technology
Would you love to work in a fast-paced industry?  An industry with heaps of options and chances to progress? To have skills that you could transfer to anywhere in the world?
If so, a career in computing and IT could be just what you need.   And the opportunities are way more varied than you might think.  And whilst the lure of worldwide travel is appealing, the West Midlands' reinvention over the last decade as one of the UK's major digital hubs, "with more than 6,000 tech firms employing some 38,300 people", means you can meet your study and career aspirations much closer to home.
The West Midlands boasts Digital Digbeth, Silicon Spa and Innovation Birmingham.
Digital Demand sees the IT industry booming
"Three in 10 (28%) employers are looking to hire in digitally-skilled talent."
The range of careers available for those working with computers and information technology has never been more varied. From games designer to software designer, developer to administrator, programmer to technician, app designer to web developer – all of these skills are in high demand.  And they can lead to a lucrative career or business venture.
There is a surge in demand for people with technology skills to meet the needs of our 'tech savvy' nation.  Between now and 2022, there is expected to be a 10% increase in demand for IT directors and web development professionals in the West Midlands. There is also a predicted 9% increase in jobs available for IT specialist managers.
"Digital is vital to the continued success of the West Midlands economy because it is the golden thread across all industries which will provide jobs in the twenty-first century." Andy Street, Mayor of the West Midlands.
So many career choices…..
Hardware or software?
Developer or designer?
Apps or websites
Tablets or telecoms?
It's easy to get confused when it comes to thinking about careers and qualifications.
Here's what you can expect from a role with lowdown on three of the 'boom' areas of the industry.
Games designer and developer
With a starting salary of approximately £18k, games developers are the ones who create and produce games that we all know and love. These games may be for personal computers (such as Fifa), online games (we're sure you've seen games such as Candy Crush!) and games for arcades, mobiles and tablets.
There are fantastic career opportunities right on your doorstep in Leamington Spa. Known as 'Silicon Spa' in the industry, it has become "A global engine room for the computing gaming industry. Working in this area of the industry, your role will be varied – from your initial ideas right through to testing in the market.
Website designer and developer
Combining technical know-how with a creative flair, this role can vary between organisations. Some companies will see it as one job where you design and code a website, whereas for a larger or more specialist website, the role of design will be separate to development. For example, you may have a website designer who designs the flat visuals, whilst working alongside the developer / programmer to ensure usability and functionality can be met. This is reflected in the variation of salaries, but typically starting at around £18k
#Top 15 Emerging Jobs
Ten out of the #Top 15 Emerging Jobs are in the digital sector, so there is a job to suit every interest and skill set. Salaries start at £19K and it is a potentially limitless growth market – after all the World Wide Web is only 30 years young!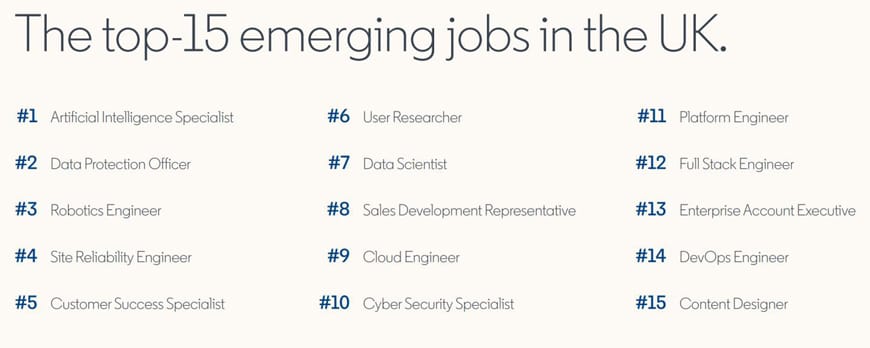 Walsall College is the West Midlands Combined Authority 'Digital Skills Lead' for West Midlands Colleges. All our computing courses are developed alongside industry experts with employers needs in mind.
The Cisco Networking Academy offers excellent Level 3 provision for school leavers and they can continue to study with Walsall College, in collaboration with Birmingham City University to gain their degree.
If you're interested in finding out more about a computing and digital career, browse our computing courses here.