Spotlight on Talent – Joe Greenwood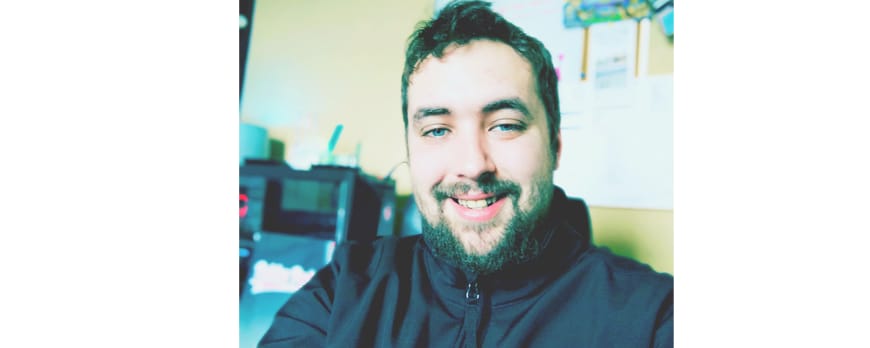 Joe Greenwood
Studied – Level 2 and 3 Signmaking
Progression – Owner/Managing Director of Halcyon Branding & Visual Ltd.
Joe Greenwood fell into sign making by chance. Since then, taking chances has led to him starting his own business.
The 30-year-old established Halcyon Branding & Visual Ltd last June (2019) in East Lancashire seven years after completing his apprenticeship through Walsall College.
"There's a continuous lifecycle with signs," explained Joe. "They're used to introduce a business to everyone as well as supporting any advertising and marketing that happens such as company expansion, new partnership deals and new products. They're also used to advertise a business for sale and to mark the end of an era or start of a new chapter. It's an extremely rewarding field to go in to.  No day is ever the same".
Joe's career began around ten years ago when he was helping his elder brother, who at the time, was running his own signage company. He would help out at the weekend and work around his job, learning the basics of sign fitting and graphic design.
Joe was then recruited by Lancashire based sports advertising company, HD Signs.
"I'd actually approached them to ask if they had any painting jobs going," Joe recalled. "They offered me a sign-making job and through that, I received incredible support and mentoring whilst learning the trade more in-depth, at the same time as building my skill-set.
He was later offered the opportunity to carry out apprenticeship training though Walsall College.
"The qualification went hand in hand with the job," Joe said. "It didn't feel like an extra burden at all. It just boosted my confidence as I knew for sure I was doing things the way they should be done."
Over the next three years, Joe gained a vast amount of experience being able to work on a range of projects such as providing signage for huge sports venues and large scale events. A particular highlight was being involved in the London 2012 Olympic Games.
"This gave me a huge sense of pride and self-worth, knowing my work was being viewed by millions around the globe," he mentioned.
Joe then went on to work for Lancashire based Creation Signs Ltd. It was here that he continued to improve on his skills and became more competent in all aspects of his career.
"I owe a lot to the guys at Creation Signs," said Joe.  "It was the first job I had where I felt truly valued and appreciated.  I felt like I was involved in many aspects of the business and my suggestions and skills were never overlooked. Having mutual respect for your employer leads to a very happy and productive workplace. Sometimes all it takes is for someone to give you that chance and your career can improve tenfold."
Joe added: "The team at Creation Signs, along with support from Walsall College enabled me to pursue my goals and give me the confidence to go into business on my own. I would like to show my gratitude towards them and hope they understand how much they have helped me.
"I've always believed that if you can leave a comfort zone to push yourself further then you owe it to yourself to give it a try," he explained. "It's why I've never settled into the same job for too long. The qualifications gained through Walsall College further enabled me to move jobs and try new ventures.  This was priceless to me".
Joe now has a network of certified and trusted sign installers who he can call on at any time while he oversees his company's creative and business operations. As well as capitalising on the demand for more digital signage to enhance or replace traditional print-based hoardings, Joe is keen to get more actively involved in music industry events and festivals.
"I've always been a musician and had a huge passion for music so it's the ideal direction for me to lead the business towards," he added.