Students help artist to create mud hut exhibit
Art and Design students from Walsall College have worked with artist Mahtab Hussain on his latest work of art, a life sized house based on mud huts people inhabit in the rural areas of his homeland Kashmir.
Level 2 students have helped the artist build the house within the New Art Gallery Walsall, by applying the layers of mud and painting the interior.
The house, entitled Mitti Kar Ghar, was inspired by Mahtab's travels to Kashmir in Pakistan in 2016, where his parents once lived.
Born and raised in Glasgow during the 1980s, Mahtab experienced racism and discrimination. His artistic practice reflects on ideas of homeland, race, identify and cultural difference, focusing primarily on the British Muslim Community.
The creation of a house within a gallery is a symbol of home, and the deeply personal connection Mahtab felt with Kashmir during his travels. However, the disconnect between the house and the gallery's sleek setting is expected to evoke the tensions some feel between their adopted and ancestral homes.
17-year-old Matthew, one of the students working on the project, said: "Since starting the course last year, I've had the opportunity to work on so many exciting projects, including Mahtab's hut.

I've learnt how to create the mixture for the hut, as well as how to work as part of a team to put it all together. It was an amazing experience."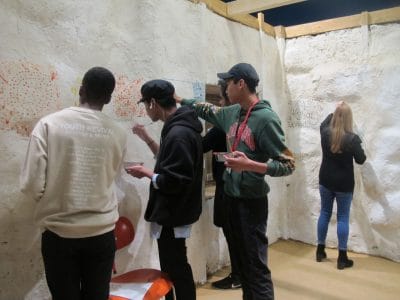 Alan Tyler, Curriculum Manager for Art and Design, Photography and Music, said: "We're very proud of what our students have achieved with Mahtab.

As a college, we are always looking for innovative ways to ensure students get as much exposure as possible for their work during their time at the college, whether it be in the local community or to industry professionals.

We are committed to ensuring that students have a wealth of experience in showcasing their creativity to support their progression to further education or into employment."
Walsall College offer Art and Design courses at Levels 1 to 4. To find out more, take a look at our V6 Couse Guide, which can be picked up from any of the college's campuses or downloaded online.