Student Voice oozes confidence at college conference
Walsall College's Autumn 2023 Student Conference was all about the power of developing a confident voice and using it for change.  Around 80 students from across all subject areas (including class reps, course reps, Students' Union members and volunteers) took part in sessions with support services teams and college leaders based around their classroom activities, student safety, mental health and cultural diversity.
The event was a platform for students to use their voice to make a change and be further motivated to embrace all the transformative opportunities that education provides.
A You Said, We Have… session reiterated some of the changes that college had put into place based on recent student feedback.  Polls were also conducted to help gauge collective views on teaching, learning and the wider college experience.
Guest speaker was Kamal Ellis-Hyman from Aim a Little Higher.  The former Youth MP encouraged students to have high hopes and aspirations; fulfilling these by becoming a confident communicator.
"My youth voice became the foundation of everything I've achieved in life so far," said Kamal.
He continued: "Developing a confident voice isn't necessarily about becoming a great leader.  It's about wanting to be of service and make something better.  I love that these students were being shown that they can take control and take the initiative to do something about their college for the good of everyone."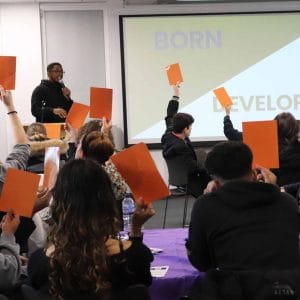 Computing student, Tudor Andrei Mihai who is running for a position on the Student Union Council said the event was thorough in terms of the topics discussed and matched many of the SU's aims and objectives.
Talking about the benefits of a collective Student Voice, law student, Abby Lewis said: "I found it rewarding and reassuring to have my voice heard and to be talking on behalf of my classmates.  University progression is important to me and so I was grateful for the chance to speak up and find out more about the different ways the college can help with this."
Construction multi-skills student, Maisie Gilbert welcomed the motivational approach of Kamal Ellis-Hyman.  "He set the tone at the start of the conference, in terms of encouraging us to see that the event was all about us; how we feel and what we need," she said.
Her fellow student, Nathan Adams added: "We study at the Green Lane Campus so my classmates and I also got to realise that lots of others across the college have the same thoughts, queries and ideas as us and that together we can get things done. I came away feeling positive because of this."