'Reduce, reuse, recycle' message reinforced during college event
A recycling symbols quiz, bunting design activity and the promotion of eco-friendly beauty products all helped to show Walsall College students and staff how they could 'be more green'.
A Sustainability Event took place on campus to raise awareness of different types of recycling and how waste can be minimised.
This included a quiz made from recycled materials and specially designed graphic elements.  People were encouraged to match identify various recycling symbols featured on packaging, such as for polystyrene, polyethylene terephthalate as well as for the Forest Stewardship Council (FSC).
Event organiser and Student Union Deputy President, Malissa Clarke said: "Today's event was about reminding everyone of the importance of being able to 'reduce, re-use and recycle' while also helping them overcome barriers to sustainability such as a lack of understanding around different recycling symbols and systems.
"With around 500 people taking part in our activities and after speaking to our other exhibitors, I feel confident that behaviours and attitudes will change around the amount of waste thrown away and how this is disposed of, particularly for materials like plastic."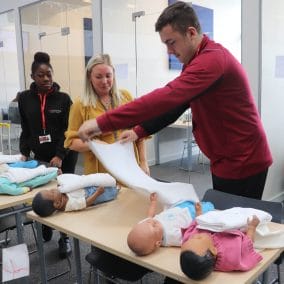 Recent figures from the Department of Food and Rural Affairs (DEFRA) have shown that 3,119 tonnes of household waste in Walsall had to be rejected because people weren't always putting the right things in the right bins, meaning they cannot be recycled because of water, dirt or chemical treatment contamination.
The Sustainability Event was supported by Walsall Council who promoted their 'Recycling Rogues' initiative to highlight this issue.  They were joined by local organisation, WASUP (World against Single Use Plastic).
Other exhibitors were the Little Professors Nursery, who demonstrated how they had used brown cardboard boxes to make a playhouse for their children to spend time in.  With a rise in the popularity of terry towels, childcare students also demonstrated how to dress a baby in them instead of relying on disposable nappies.
Eco friendly products from The Body Shop, Luna Child Co and Laydidee's Natural Skincare were on sale too.  And ahead of the coronation of King Charles III, event visitors were invited to make bunting using recycled card, paper and other resources, with the finished items being used to decorate the campuses ahead of the Coronation.