Jonathan wins prestigious creative media award at the 2020 BTEC Awards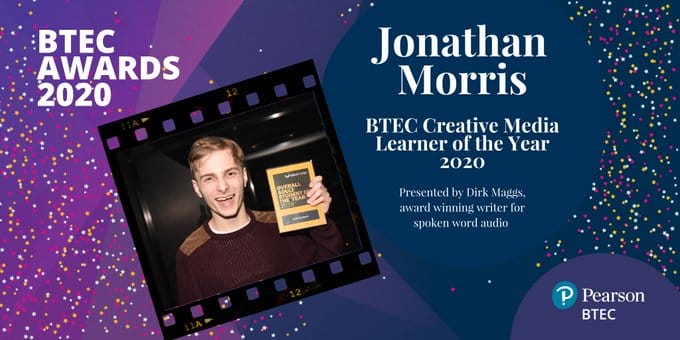 The exceptional achievement of Walsall's Jonathan Morris from Walsall College was celebrated today as he was awarded the prestigious BTEC award for Creative Media Learner of the Year 2020.
Jonathan was praised for his commitment to storytelling through media and his ability to use his unique life experiences, as well as his commitment and hard work to make a difference.
The 21-year-old started out at Walsall College on an Entry Level 3 course in Creative Media and has worked his way up to a Level 4 HNC Diploma in Creative Media Production.  He hopes to complete a full bachelor's degree and then work as a filmmaker and editor.
Jonathan's dedication was celebrated at the tenth anniversary of Pearson's annual BTEC Awards hosted online.
BTEC Creative Media Learner of the Year, Jonathan Morris, said: "My BTEC journey has supported my ambitions and personal progress in every possible way. The work I've done and the way I've been encouraged to keep doing better has helped change the perceptions I had of myself and who I could be. I'm honoured to have won the award."
The 2020 BTEC Awards comprised of 17 categories and was hosted by presenter of the United Stand, YouTube influencer and BTEC Ambassador, Flex, with awards presented by Double Olympic Gold medallist Max Whitlock as well as actress and former BTEC Drama student at The BRIT School, Kellie Shirley. The expert panel of judges made up of Pearson's senior leadership team, journalists and external experts, carefully considered the nominees before deciding on the winners.
Jatinder Sharma, Principal and Chief Executive of Walsall College, commented: "As a further education college, it is our privilege to provide learners with qualifications aligned to a range of industries that take them all the way up to degree level.
"Jonathan has impressed us all by improving his grades year on year and completing a number of film projects for the local community.  This is on top of running his own YouTube Channel, Ability Street.
"We are so proud of him and his BTEC Award success."
Cindy Rampersaud, Senior Vice President BTEC and Apprenticeship, said: "This year I've been over-whelmed by the quality of BTEC Award nominations we received and I am delighted to celebrate this year's winners and the achievements of all learners who will be awarded a BTEC this year.  Over the past few weeks and months, we've seen how the current pandemic has highlighted the critical role of key workers and individuals who are likely to have followed a vocational educational pathway such as BTEC. "
Pearson has overseen BTEC qualifications for over 30 years and during this time the qualifications have equipped millions of learners with the knowledge and practical skills that employers need. A poll by Pearson found that two-thirds of medium-sized businesses have hired BTEC graduates in the last five years, and nearly a quarter of learners going to university do so with a BTEC. An overwhelming majority of employers and young people want to keep their options open at 16 and gain the blend of academic, practical and transferable skills that BTEC provides that are so valued by industry and employers.
In response to new careers emerging within industries and ongoing change, Pearson is continually adapting and innovating its BTEC curriculum and learning to ensure it is relevant for young people and adults – supporting progression and career aspirations throughout lives. The recently launched BTEC qualification in esports, in partnership with the British Esports Association, is a major step forward in supporting the creation of long-term careers in the growing esports industry both in the UK and internationally.   In addition, Pearson's BTEC partnership with Liverpool Football Club, announced earlier this month, will enable learners in international markets to acquire the expertise, skills and knowledge required for careers in the rapidly expanding global sports sector.