Master all hair types says masterclass host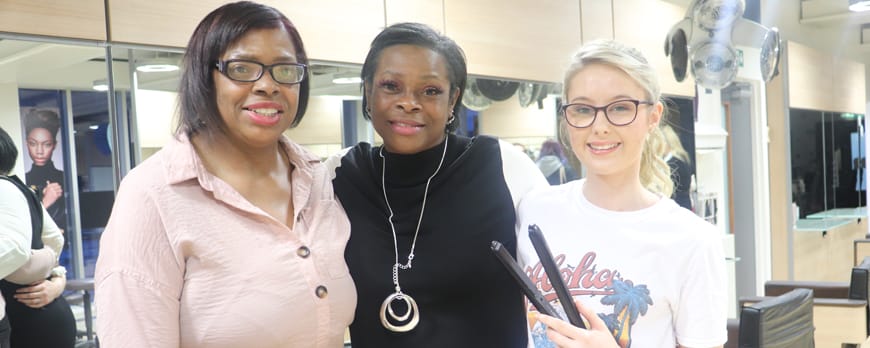 A successful hairstylist and salon owner has encouraged apprentices training with Walsall College to learn to work on both European and Afro hair so that they can support a range of clients.  Doreen O' Connell, owner of the Albrighton-based salon, Avani Hair Design delivered a masterclass to Level 2 apprentices at The Graduate Salon.
During the class, she demonstrated how to apply a relaxer treatment on an Afro-Caribbean client so that it would straighten her hair.  Doreen also encouraged the group to make use of grooming products containing natural ingredients whenever possible.
"I've been fortunate throughout my career to have worked in salons that looked after people with all hair types," said Doreen who opened Avani Hair Design in 2016.  "Yet there are hundreds of salons out there that turn people away because they are frightened to work on Afro hair.  It means that stylists don't always reach their full potential."
Doreen continued: "I was keen to tell the apprentices to just have a go at styling different hair. I did this by showing them how straightforward one of the hair treatment processes can be.
"Hopefully it will inspire them to be more versatile when they are fully-qualified."
Doreen's apprentice, Olivia Adams who has worked with her for three years joined her at the masterclass.
The 19-year-old started her career as a volunteer who worked at Avani on Saturdays.
"Volunteering helped me realise that this was the career I wanted," Olivia explained.  "I did start out on a full-time college course, but I missed being in a salon.  This is why I asked Doreen to take me on as an apprentice.
"I'm so grateful to her for doing this.  I wouldn't have carried on with hairdressing if it hadn't been for the Apprenticeship."
Doreen regards Olivia's gratitude as a great personal accolade.
"It's all about education and progress for me," she said.  "Sharing my knowledge and seeing people flourish benefits my career – not just the apprentices.  And it's so rewarding to give something back.
"We never stop learning in hairdressing," she added.  "There are always new style innovations and products to explore.  And you can always take inspiration from other stylists.  This helps to make you unique; someone who has their own way of creating different looks."