Hospitality alumni hosts fish dish masterclass
A former student chef at Walsall College was welcomed back into the kitchens to host a fish dish masterclass for current students.  Elclesio Lemes guided Level 1 Culinary skills students through the process of gutting and preparing a whole fish before sharing a personal Brazilian-inspired stew to go with it.
The students were then tasked with replicating the recipe; pan frying and seasoning their fish before receiving feedback on the texture, flavours and presentation of their dishes.
Elclesio, who is currently training as a patisserie chef, said he was delighted to be back at the college.
"Walsall College changed my life in so many ways so I was happy to come back here and support other students starting their training," he said.  "The dish I showed them was fairly simple and strong in flavour, so it was perfect for helping students build up their skills.  I'd be happy to come back again."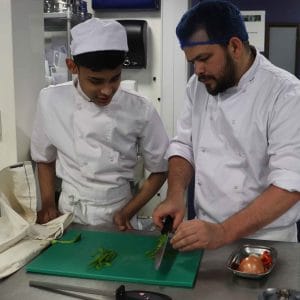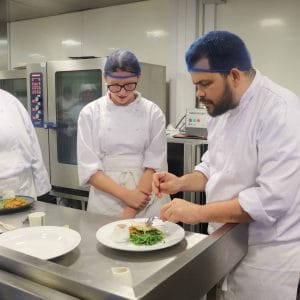 Lecturer, Chris Sammons added: "It was fantastic for the college to introduce our current students to someone with a unique perspective on food culture, flavours and style.  They were in aware of Elclesio's learner journey, ambitions and engaging manner.  He also encouraged them to be open to new ideas and their continued development, just as he has been."
Charly Sloan was one of the students who took part in the masterclass.
"I enjoyed the chance to make fish in a different way," she said.  "I'd never made a Brazillian-inspired sauce before.  But there are some similar ingredients in here to the Mexican and Indian flavours I am more used to, so I would make this dish again.  It was nice to have had the chance to learn from Elclesio.  He was very supportive."