T Level Health students complete term one review with hospital staff
With 12 weeks of study and six days of an industry placement under their belt, Health T Level students have been reflecting on their learning experiences so far with the people teaching and training them.  30 students took part in a review session with their lecturers and representatives from their placement providers, Walsall Manor Hospital.
Lecturer, Pam Kaur explained: "As this is a new qualification with a new placement structure, we want to be sure we are making the most of the learning and development opportunities available to them.
"Our session encouraged everyone to review the professional competencies demonstrated so far by the students.  We looked at the things going well on the course while identifying areas for adjustment and improvement.
"Some excellent ideas emerged.  We can use these to further build on the training portfolio we have in place.  We can also share best practice for the T Levels specialising in mental health, midwifery and therapy team support that we are launching this September."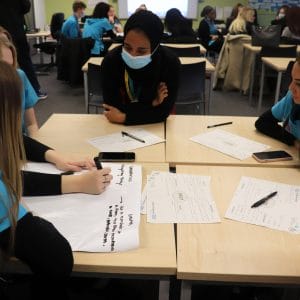 The students started their two-year T Level in September 2021.  Following an induction at the hospital, they began 315-hour placements across 15 of the hospital's clinical areas.  They are completing these by working a shift one day each week.
Danielle Pyatt, Nursing Associate at Walsall Manor Hospital said: "The students are making excellent progress as future healthcare professionals.
"Coming into this environment for the very first time can be overwhelming, particularly when it means getting used to early starts, shift patterns and being on busy wards.  However, by demonstrating their maturity, enthusiasm and compassion towards patients and hospital colleagues each day, they are seeing the impact of their roles and feel motivated to succeed in their nursing careers."
Fellow Nursing Associate, Tasmin Aktar added: "Spending one day of their college week on placement enables the learner to train at a steady pace; setting goals and achieving competencies along the way.  It's exciting to see them gaining essential skills within a NHS operational setting that will prepare them well for university."