Curtain up for college dance students
Local students are the support act for a dance company, whose show makes a tour stop in Walsall later this month.
19 student dancers from Walsall College will appear in a curtain raiser for Skin Reimagined – a production starring the African and Caribbean company, ACE dance and music.  The show takes place at Walsall Arena and Arts Centre on Wednesday 18 March at 7.30pm.
Walsall College Lecturer, Faye Cox said: "Not only is this tour date the only one to include a curtain raiser, it's the only one to feature student dancers, so it's even more of an honour for us to be involved.
"The students are relishing the opportunity to explore something new.  Many of them are in the process of auditioning for dance schools and universities, so this enhances the skills and experience they can demonstrate to others in the industry."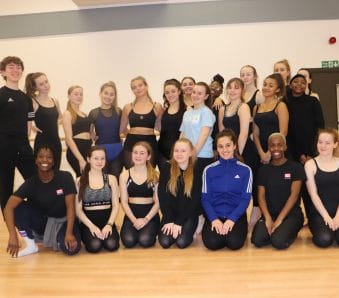 Skin Reimagined began touring last autumn.  It is a dance double bill from international choreographers, Vincent Mantose of South Africa and Akiko Kitamura from Japan.
Three members of ACE dance and music delivered a two-day workshop with the student dancers to help them choreograph their performance.
Asmara Cammock, company dancer with ACE dance and music said: "It's exciting for us to support local talent and help aspiring professionals go further.
"We used the workshop to push the dancers out of their comfort zone by exploring dance moves and performance techniques they might not have considered before.  They have responded well to this, proving just how creative they can be."
To book tickets for Skin Reimagined, visit www.walsallarena.com/whatson