Art exhibition comes to life through student performance
A local exhibition combined art with dance, courtesy of a collaboration between a renowned artist and students from Walsall College.  Artist, Amalia Pica's exhibition, Private & Confidential is currently on display at Walsall's The New Art Gallery.  Dance students gave an extra dimension to this through a special performance.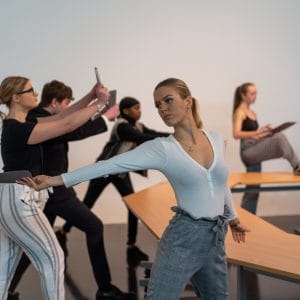 images by Mark Hilton
"The students have found Amalia's work inspiring," said lecturer, Faye Cox. "Her exhibition uses office furniture, modes of communication and overseas travel to demonstrate the bureaucratic processes that surround us.  This was another refreshing look at how rules and procedures might restrict our ability to have fun.
"It was a lively, thought-provoking performance.  The audience response was amazing."
Faye added: "Working with Amalia also reinforced how freedom of expression exists across all creative mediums."