Spotlight on Talent – Tyrelle Scarlett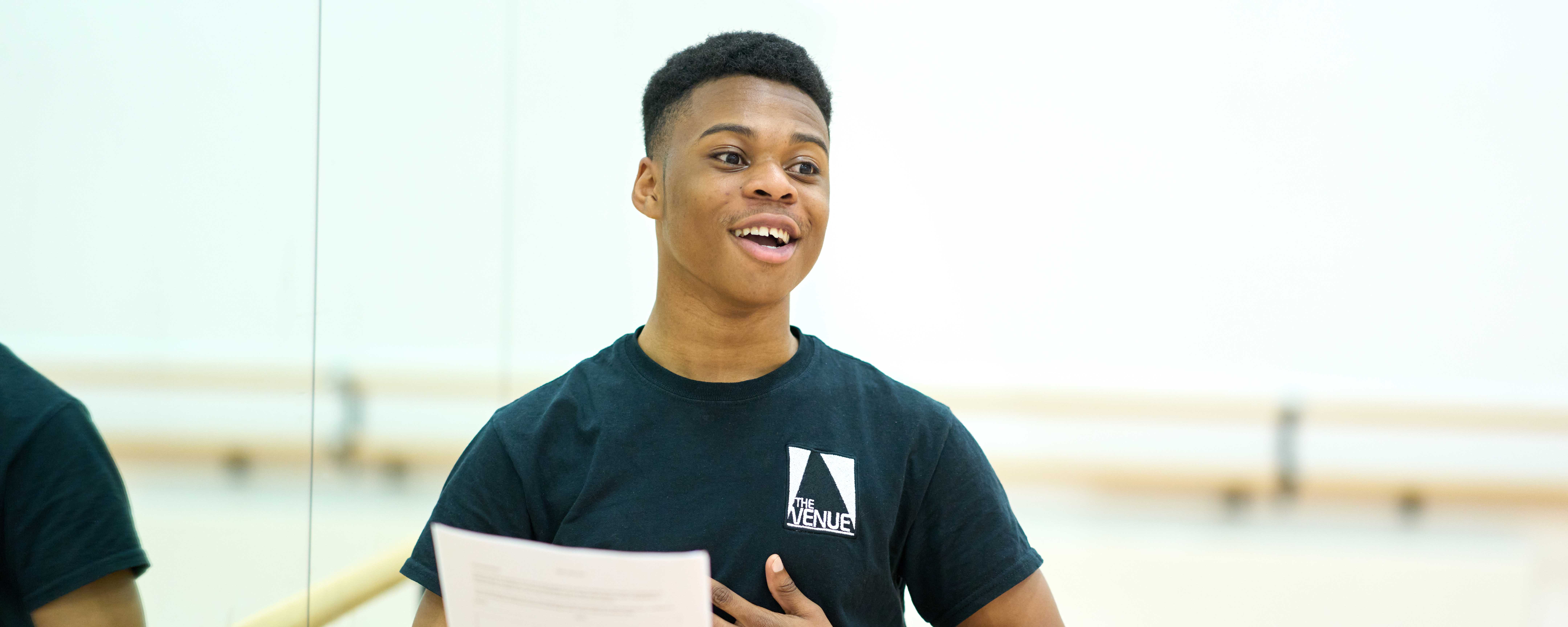 Studied: Level 3 Performing Arts (Acting)
Progression:  BA Hons Acting at Northampton University
Developing skills and confidence as a performance artist during a pandemic has not been easy for any student.  Especially because of limited face to face interactions between classmates, tutors and a live audience.
Despite this, Tyrelle Scarlett found ways to improve as a solo and collaborative artist on stage and one screen, widen his industry network and think outside the box.
He did this by going above and beyond during course assignments and performances and fully supporting classmates with their work too.  As restrictions eased, he also gained skills as a technician working on lighting and sound for performances and shows involving students across the college's creative arts faculty.
His enthusiasm and dedication towards his studies and the performance-based activities he has been involved in outside class have led to him progressing on to Northampton University.  From here he hopes to launch himself as an actor/performer.
"Studying acting at college has helped me achieve even more than I expected," said Tyrelle.  "I've grown, matured and learned what it means to not only be an actor but an artist, passionate about my work".
Tyrelle's many course highlights include producing an original monologue and rap based on the theme of #BlackLivesMatter for a solo performance assessment.  He achieved a Distinction grade for this performance and the written work involved.
He has also supported five different media students by appearing in their documentary and short dramas; sharing ideas and supporting their creative vision.  As part of Future Flames Productions, the college's in-house company, Tyrelle starred in client films such as a hotel chain's training videos.
"I've gained more experience through the use of my studies. I'm more equipped and capable to live the life of a performer/artist," continued Tyrelle.  "After my degree, I'll take a trip down memory lane, going back to where it all started – secondary school. Then on to where my journey progressed – college.
"I'll deliver workshops based on acting whilst talking about my experience and passing on my knowledge, in the hope of inspiring the next generation whilst making a name for myself as an actor/performer".
Tyrelle added: "I love acting.  What makes it so special is teaching aspiring actors and actresses. There's always room to learn something new and seeing actors and actresses expressing themselves without a care in the world, is so wholesome. Besides it's my way of giving back; acting saved me.  Who knows.  What I teach could save others.".
"My studies at college have enabled me to be prepared for my future and journey ahead. I know I'll succeed, I believe in myself. I have people that believe in me. Regardless of who I am, what I look like and my ability. Anything is possible, if you put your mind to it".
"There's nothing I can't do without a little practice".