Students treats Debenhams customers to a pampering session
Walsall College Hair and Beauty students treated customers at Debenhams to a glamorous make-over and some TLC, as part of the store's 'Look Good Feel Better' charity event.
Look Good Feel Better is an international cancer support charity that helps women and teenagers manage the viable side effects of cancer treatment.
To help raise funds for the charity, Debenhams held a Look Good Feel Better event that saw a series of activities take place, from beauty therapy sessions to fundraising sales.
Students from Walsall College volunteered their time to support the store's special VIP evening, which offered mini treatments and make-overs.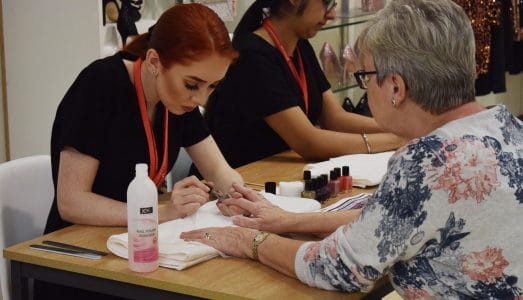 Five Level 3 Media Hair and Make-up students were on hand to give customers a stylish updo, complete with a make-up look applied using designer brands such as Clarins, YSL and Lancome.
Customers were also treated to a head massage and nail treatment, which was also provided by the College's students. Photography students were also on hand to take photographs for the store's PR and marketing campaign for future charity events.
Selected Media Hair and Make-up students, who are studying at Levels 2 and 3 will undertake a voluntary placement at Debenhams in January, providing beauty and hair treatments to customers to promote the products in store.
Morgan Jackson, a Level 3 photography student at the event, said: "I really enjoyed volunteering my time for Debenhams. It was a great opportunity to build up my portfolio and experience, particularly as I plan to find an apprenticeship by the end of the year.

My confidence has grown and I plan to utilise as many opportunities at the college so I have a strong and diverse portfolio to present to employers looking for a photographer."
Fern Harrison, a Level 3 Hair and Media Make-up student, said: "I really enjoyed working with the staff at the Lancome counter. It was great being able to use what I've learn on the course on real customers. The good feedback I've received has really boosted my confidence, which has given me more drive in investing in my future career."

Jaswant Sembhi, Senior Employer Engagement Co-ordinator at Walsall College, said: "We are delighted to support the partnership between Debenhams and Look Good Feel Better. This event is one of the real-life work experience opportunities we have provided to our students in collaboration with our employers. These experiences ensure that young people gain the real-life work skills to improve their chances of entering the profession they wish to succeed in."
Walsall College offer a number of courses in Beauty and Hairdressing. For more information about enrolling on a course at Walsall College, please call 01922 657000.