Students host the Big Soup Share
As part of the RHS Campaign for School Gardening, supported learning catering students handed out free soups they had whizzed up from crops they harvested themselves.
The RHS Campaign for School Gardening aims to help schools and colleges provide young people with gardening opportunities to enhance their skills and development.
In 2017, the organisation launched the Big Soup Share to mark its tenth birthday, where their members – including college students – served over 57,000 portions of soup across the country.
Entry 3 and Level 1 students handed out soups to staff and students at the college's Wisemore campus, as part of the annual event.
Funded by the Student Union, the Big Soup Share has a wide range of delicious options on offer, including broccoli, leek and sweet potato and beetroot and apple.
Level 3 Hospitality students helped to prepare the gourmet-inspired soups, as part of their studies on created dishes from organic produce.
Ingredients were sourced from the College Student EATS garden, which was funded by the NUS and is used by student volunteers to nurture their horticulture skills as part of a Student Union programme.
In 2013, students and volunteers enhanced the garden using recycled materials, including floorboards to make flowerbeds, and signposts, benches and block paving from skips. Since then, the garden has been recognised at the Chelsea Fringe, the Chelsea Flower Show and the NEC's Gardeners World Live.
Paul Bagnall, Curriculum Manager for Supported Learning, said: "I'm very proud of our students have achieved. Gardening is both an art and a science, and our students have succeeded in cultivating some great-tasting vegetables to create a range of delicious soups for our staff and students.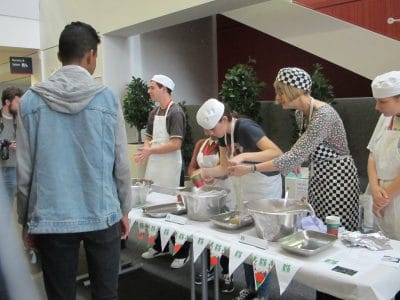 As a college, we are continuously looking for ways to support our students' personal and technical development. Becoming members of the RHS Campaign for School Gardening was an ideal way to ensure our students hone their hospitality and catering skills.

Gardening helps individuals develop a wide range of skills employers are looking for, including confidence, teamwork and communication.

The Big Soup Share was a great opportunity for students to apply their employability skills, as well as to develop their customer service skills. We look forward to hosting next year's event."
The Student Union have a number of volunteering opportunities on offer through their Give and Take programme, including placements at a number of local organisations and charities.
For more information about enrolling on a course at Walsall College, please call 01922 657000.