Students celebrate history of computing for Computer Science Education Week
As part of Computer Science Education Week, Walsall College's computing students explored the history of computers during a visit to The National Museum of Computing in Milton Keynes.
The Level 3 BTEC, T Level, HNC and HND students visited the celebrated museum, based in Bletchley Park, where they explored the world's largest collection of functional historic computers, originating from the 1940s up to the present day.
The museum has been recognised as one of England's top 100 'irreplaceable places' as it continues to provide inspiration and enjoyment to all age groups and knowledge levels.
Students gained an exclusive insight into the museum as they toured the exhibits, designed to bring to life the history and ongoing development of computing. They also looked into the future of computing as they took part in bespoke workshops centred around cyber security and virtual reality.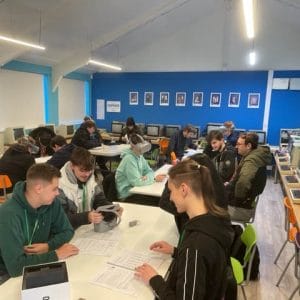 Neal Robinson, Curriculum Delivery Manager of Computing and Digital at the college said: "The visit gave our students an opportunity to see how computing technology has developed and advanced since the 1940s."
"The volunteers, who had all previously worked for pioneering digital technology companies, shared their experiences, which gave our students a glimpse into the industry."