Roadside and community-side support for Women's Tour
Cyclists in stage two of the Women's Tour received an enthusiastic welcome from the Walsall community, including students and staff at Walsall College.  Race day activities at Walsall Arboretum and the town centre gave local organisations and the college the opportunity to join local residents in cheering on participants as they completed their 64-mile (103km) route.
Protective services students took on roles as stewards and marshals at Walsall Arboretum where cycle teams appeared on stage prior to the race and then at the starting line.  A group of sports students on an exhibitor stand hosted mini fitness sessions, blood pressure testing and provided advice on healthy eating.
Representatives from the college's community outreach team also joined Walsall For All in the town centre to show their support for the cyclists while promoting upcoming learning opportunities for local adults.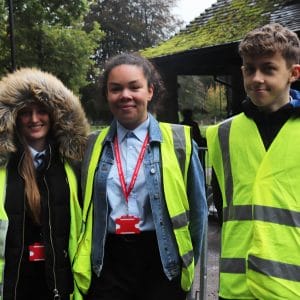 "Volunteering at this event was a rewarding experience," said protective services student, Shardae Vanhorn.  "The weather conditions were a bit challenging, but we enjoyed ourselves overall.   I'm hoping to become a police officer in future so this was one way to help start off my training."
The Women's Tour is the UK's first international stage race for women, bringing the world's top riders to compete in Great Britain as a part of the UCI Women's World Tour.
Walsall became only the third town – after Stoke-on-Trent and Chesterfield – in history to welcome both the start and finish of a Women's Tour road stage on the same day.
The stage started at Walsall Arboretum and took in Hayhead Woods, Barr Beacon nature reserve and Pool Green before finishing on Lichfield Street.