Plastering apprentice Trish scoops national award
An apprentice plasterer at The Wrekin Housing Group who trains at Walsall College has been recognised as a rising star at a national awards ceremony.
Trish Barnes beat competition from across the country to be named 'Apprentice of the Year' at this year's Communities and Housing Investment in People (CHIP) awards.
As a woman in a predominately male industry, Trish hopes that her win will encourage others to consider the career opportunities offered by a trade-based apprenticeship.
The award caps off a hugely successful few months for Trish. While Trish completes her apprenticeship this summer, she will be employed on a further 12-month contract, while she develops her broader skills and strengthens her position to become an advanced craft trade.
Trish currently splits her time between on-the-job training at The Wrekin Housing Group and study time at the College.
Trish said: "I am absolutely delighted and surprised to have won the Apprentice of the Year award. It has taken a little while to sink in. It is a great honour and a testament to the professional and personal support I've received from my colleagues here at Wrekin. Serving my apprenticeship at Wrekin has provided me with a great kick-start to my career and an amazing environment for me to learn."
Trish's plastering career began slowly.  After working in retail and business administration, Trish Barnes realised she preferred a more hands on career in construction.
"I was doing shift work or temporary contracts before my Apprenticeship came along," said Trish.
"I prefer this kind of work to anything I've done before.  At the end of each working I can step back and see what I've achieved."
She continued: "There were some doubts when I first started out.  I was a few years older than my classmates and the only female in the group.  But this hasn't held me back.
"The Wrekin Housing Group have supported me from day one.  They encourage me to put myself out there as a role model to other young females who might not have thought about a career as a plasterer."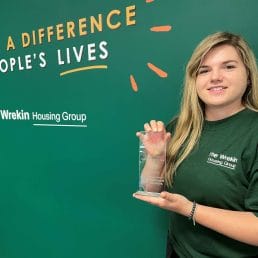 Every year CHIP commits to celebrating its delivery of social value by recognising the work that is being embedded by its partners.
Emma Humphries, Head of Operational Services at The Wrekin Housing Group said:"This award is a testament to Trish's commitment to her craft. She is hard working and dedicated, keen to learn and hugely popular with both colleagues and tenants.
"The way she has combined her on-the-job training with her studies has been admirable – she has excelled in both. I cannot think of a better role model for young women and I hope Trish will inspire the next generation to consider taking up a trade as a career."
Read more about Trish's plastering apprenticeship journey here.