Patron collaboration cooks up career boosts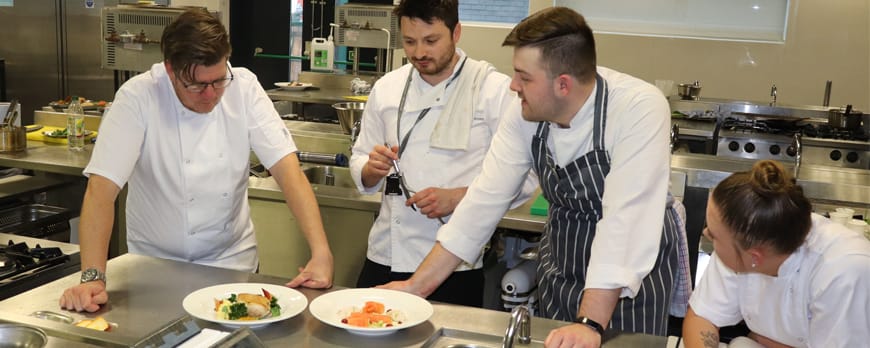 A Black Country Chamber patrons' partnership is fast becoming a recipe for success for students at Walsall College.
Wolverhampton Racecourse has provided work placements to two of the college's student professional chefs, with them now working in the kitchens for the Holiday Inn hotel and racecourse Horizon restaurant.  Racecourse head chef, Matt Pollard has also visited the college to deliver a masterclass to a group of professional cookery students.
Paula Jones, Commercial Manager at Wolverhampton Racecourse said: "After seeing first-hand how these students are thriving in kitchen and restaurant settings, it was natural for the Racecourse to offer to support their further development.
"We're delighted to have these trainee chefs and culinary professionals working with our experienced team.  Going forward, we hope to work with the college's students on both catering and front of house vacancies."
The work experience placements and the masterclass came about after representatives from Wolverhampton Racecourse toured Walsall College as part of a Patrons' Behind the Scenes event.
James Norris, Assistant Principal for Commercial Development at Walsall College said: "These networking events raise awareness of each patrons' business plans and priorities, sparking ideas for collaboration and best-practice sharing.
"It's great for us to be working so closely with a fellow patron, as well as a organisation that appreciates the importance of nurturing the skills and ambitions of those aiming to represent the hospitality industry in future.  In turn, we are supporting their recruitment needs and service operations."