Christmas 2022 at Walsall College
Students and staff at Walsall College have been bringing Christmas cheer to all their campuses and across the local community.  Here's a round-up of what has been taking place:
Santa and elves 'work it' at Pleck Library
Santa and his elves turned Pleck Library into a hive of activity as part of an Elf Workshop for 44 local families (over 150 adults and children).
Festive hats and crackers were created and baubles designed and decorated.  Christmas poems and letters to Santa were also written.  Event visitors enjoyed dance sessions and exercise classes as well as traditional fun and games, such as musical chairs and musical statues.
And with support from Bloxwich Rotary Club, presents were handed out to all children.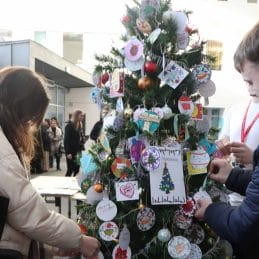 Festive fairs
Student enterprise, Santa and happy vibes all made for a successful Festive Fair organised by the Students' Union.  Student artists and craft entrepreneurs joined local businesses and community organisations in selling cards, accessories and a variety of gifts.
Attendees were encouraged to add a message of kindness to a decorative bauble for the college's Happy Tree.   Inspired by The Happy newspaper, the purpose of the tree is to spread joy and happiness across the college community.
And photographs with Santa were taken in exchange for a donation to Bloxwich Rotary Club.
Supported learning students were also selling artwork and festive merchandise for their summer show and for Smile for Joel.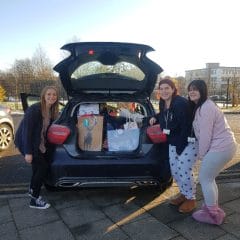 Donation drives for families in need and 'grandparents'
Black Country Foodbank was the recipient of a substantial number of parcels donated by students and staff following an appeal.
The Little Professors Nursery coordinated a Christmas programme with Hilton Rose Care Home which saw gifts (with personalised tags) being donated to residents (grandparents).
No rest for student dancers
While some wind down in the run up to the holidays, Level 3 year 2 performing arts (dance) students have been busier than ever.  They were appearing in Walsall Arena and Arts Centre's Christmas show Sleeping Beauty.
This is the second year running that the college's students have been involved in the Centre's seasonal show, running from Tuesday 13th-Saturday 18th December.