Charlotte Bosworth
"Being a governor has really contributed to me developing as a Senior Executive.
The experience has contributed to my development and provided a real insight into how regulated organisations are ran, managed and are successful. I also believe young people are our future and playing a part in contributing to their success makes me feel I am playing a small part in that."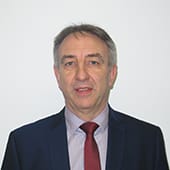 Graham Ward
"Whilst I have only been a governor for a short time the experience has been very rewarding.
I've developed new transferable skills and discovered a thriving, energetic and passionate set of people, from governors to staff and students, here in the heart of Walsall."
Stuart Pedley-Smith
"Becoming a Governor at Walsall College wasn't something I initially set out to do.
My motivation was to use what I had learned in my career to help others in some way. I am now coming up to three years as a Governor and it has been a real pleasure and privilege to work with a group of talented managers and fellow Governors to give people the opportunity to learn, think and gain skills that will hopefully lead to employment. Walsall College is small enough to listen to what you have to say, but big enough to change people's lives forever, and who wouldn't want to be part of that?"