Walsall College helps to bring talent to life at Skills Show
More than 90,000 young people of all ages flocked to NEC Birmingham for this year's national Skills Show, where Walsall College exhibited with some engineering activities and a Digital Graffiti Wall.
The Skills Show is renowned for being the nation's largest skills and careers event, helping young people learn about a wide variety of careers through some exciting 'Have-a-Go' activities.
The exhibition, which took place from 16 – 18 November, saw thousands of school students take part in a number of activities hosted by Walsall College and its engineering employers.
Over the three-day event, Walsall College's engineering staff encouraged visitors to try out a number of exciting 'Have-a-Go' activities they had on offer, from welding to using a laser cutter.
At the Walsall College stand, hundreds of students had a go at the digital graffiti wall, which is built to look and feel just like real street art. The wall came with a number of software tools that enables users to free-style using a wide range of brush strokes. The wall also allowed users to colour their drawings using the fill icon, and to draw perfect lines, circles and squares.
On the second day of the show, graffiti artist Temper held a morning demonstration on the graffiti wall, which drew in a large crowd with many inspired to have a go themselves.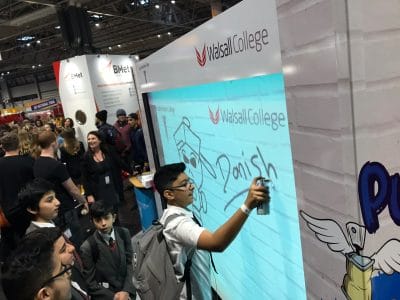 Temper, aka Arron Bird, is widely recognised as one of the most successful and talented graffiti artists in the UK. In 2001, his signature design was featured on millions of Sprite cans throughout the UK and part of Europe. He is also the brainchild of 'The Lovely People', a series of bronze sculptures with giant red hearts for heads, which are based at the Cube in Birmingham and is one of the most popular art displays in the city.
Temper's daughter, Taylor Bird, recently graduated from Walsall College with a BE Degree Level 6 in Photography. Her exceptional achievement in adult learning won her the Festival of Learning National Young Adult Award, and she recently won Student of the Year at the college's Higher Education Graduation Ceremony.
Walsall College Public Services students were on hand to ensure the show was a success and assisted event organisers in a number of roles, including stewarding, customer service as well as providing logistics and technical support.
Walsall College's 'Have a Go' Engineering stand, the college was joined by manufacturing firms Boxford and Patriot International, a specialist pipe-work provider based in Oldbury, Aberdeen and the Netherlands.
John Hampson, Training Academy Manager for Patriot International, was at the event with programme manager Andy Simon, who showed attendees how to use some of the machines they had brought in, including a welding machine.
Former Walsall College students, Tyron Marshall, Imath Uddin and Charley Fowler, also attended the event to support Patriot International. The alumni, who now work for the company, encouraged young people to have a go at some of the activities.
Young people were given the opportunity to use Boxford's laser cutter to produce an individual key fob, with the support of company Sales Manager Dave Porter. They also had a go on their Augmented Reality Welding Training system, as well as their Computer Numerical Control (CNC) machine, which uses computers to control machine tools, such as lathes, mills and routers.
Engineering students were on hand to support engineering firms Patriot International and Boxford in holding demonstrations at their machines. Tutors Darren Pointon, David Willetts and Divya Patel offered visitors information about the number of engineering courses Walsall College provides, from City and Guilds qualifications to courses at Level 1, 2 and 3.
Walsall College's marketing team were also at the national exhibition, providing information about the fantastic range of courses and apprenticeships the college offers to young people keen to kick-start their dream career.
Jatinder Sharma OBE, Walsall College Principal and Chief Executive, said: "I am delighted that we were again able to be involved in, and associated with, such a prestigious national event.

"Our staff proved to be excellent ambassadors for our college in showcasing to the sector and over 90,000 visitors many of the aspects of our organisation that make us outstanding, alongside contributing to raising the profile of vocational education and apprenticeships to a national audience."