The Littleton celebrates young talent at The Young Chef of the Year competition
Staff at The Littleton, Walsall College's restaurant, hosted the final of the Young Chef of the Year competition for local schools.
The event, which took place at The Hub, saw nine secondary school students go head-to-head to prepare two healthy dishes of their choice.
The annual competition, run by the Rotary Club of Aldridge, was for 11 to 17 year olds keen to showcase their culinary skills. Participants were from a number of schools across Walsall, including Barr Beacon School, Aldridge School, Streetly Academy and St Francis of Assisi.
Two cooking competitions were held at The Littleton. Students aged 11 to 14 took part in the Junior competition, whilst the Senior competition was open to budding chefs aged over 14 years of age.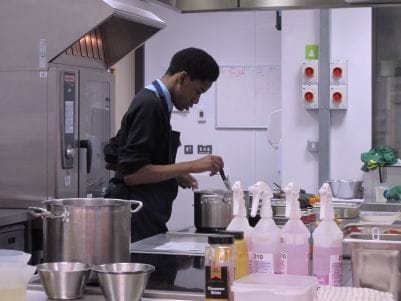 Using a variety of healthy ingredients, participants were tasked to prepare a two-course meal consisting of a main dish and a starter or dessert. Entrants were marked on a range of cooking benchmarks, including choice of ingredients, planning, costing, skills used, food temperature, taste and presentation.
Judges deliberated on their scoring and provided feedback to all contestants. A presentation followed, where the winner and runners-up received a certificate and a cash prize.
14-year-old Amy Hayes, from St Francis of Assisi, came in first place and her impressive toffee pudding will be included in The Littleton's dessert menu.
Runner up Ryan Richards, 12, came in second place and Streetly Academy student Caitlin Bunn, also 12, was placed in third.
Steve Biggs, Head Chef at The Littleton, said: "It was an honour to host the Young Chef of the Year competition.
The competition enabled aspiring chefs to demonstrate their abilities to professionals and build upon their skills through the feedback they receive.

Participants prepared a range of beautifully-made dishes that wouldn't look out of place in a restaurant. We are looking forward to host more competitions in future."
During its first year, The Littleton was commended by 'The Best of Walsall' as being one of the best English restaurants in Walsall. The restaurant has held a 5 star hygiene rating for the last two years, and has won four national Business of the Year awards.
Walsall College offer a number of Hospitality and Catering courses, including its brand new Young Chefs Academy.
The six-week course, which begins on 4th June, is an opportunity for budding chefs aged between 14 – 16 years-old to kick-start a career in food and hospitality.
For more information about enrolling on a course at Walsall College, please call 01922 657000.
Banner photography by Tim Sturgess