Students through to Semi-final of FA People's Cup
Two teams of Walsall College students – one male and another female – have made it through to the semi-finals of the Futsall FA People's Cup.
The FA People's Cup is a national-wide competition, giving people across the country the opportunity to play their own version of the FA Cup. The free five-a-side competition is free to enter, and welcomes male, female and disability players across 18 categories, from under 14s to veterans (over 35s).
The competition at Walsall College was open to students across all cluster subjects. Eight teams of males and three female teams were selected from different subject areas, ranging from Sport and Motor vehicle to Public Services and ESOL.
The FA People's Cup took place at the Hub at Walsall College, where the teams went head-to-head to make it through to the regional semi-finals.
The tournament was run by student football activators, who organised the event and kept score of the games.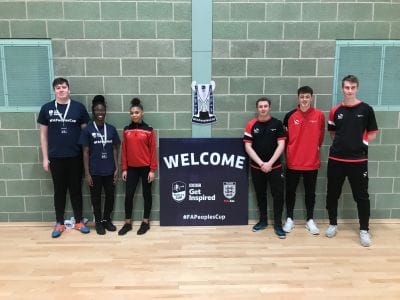 Students from Sport courses went against the boys from the Motor vehicle course during the male final, with victory going to the Sports students 3-0. During the female team final, the girls from the College's Public Service course played against ESOL students. The Public Service girls won the game scoring 3-1.
The winning teams will enter the semi-finals with other teams nation-wide. The overall winners will battle it out during the finals, which will take place at Wembley Stadium in May.
Mark Howard, Sport Development Co-ordinator, at Walsall College, said: "Walsall College were privileged to host a round of the FA Peoples cup, which gave students the opportunity to play Futsal, particularly those who would not get the chance to do so alongside their studies.

The tournament was run by student activators, who enjoyed the experience so much that they decided to organise future Futsal events at least once a term. It was fantastic day that benefitted both the volunteers and participants".
For more information about enrolling on a course at Walsall College, please call 01922 657000.