Students build Memory Garden to honour classmates
Walsall College's Horticulture students built a beautiful Memory Garden in memory of all learners who have passed away, including friend and classmate Michael Stringer, who died in October 2017.
The Memory Garden, which was built at the College's Hawbush campus, includes a blocked paved area enclosed by brick-built flowerbeds filled with a wide range of flowers including Lavender, Lambs Ear and Geraniums. There is also a centrepiece flowerbed that features a single ornamental Birch tree surrounded by chamomile.
Michael Stringer joined the college many years ago, when its adult and community cluster was a technical college for adult learners. As a supported learning student, Michael took part in a wide variety of subjects, from art and drama to computing and horticulture.
To honour their friends and classmates, Level 1 and 2 Horticulture students worked with tutor Andy Castle on the concept and design of the gardens, and also undertook the block paving and planting.
Under the guidance of tutor Paul Hughes, the Pathway learners constructed the brick-built flowerbeds as part of their construction qualification.
The garden also features a bench, which was donated by Michael's mother in her son's memory.
Christine Stringer said, "Michael enjoyed using computers and cameras, as well as painting and drawing, and taking part in drama sessions. He made many friends during his time at the college, and learnt a wide range of skills that that helped him to grow in confidence.
In the words of Michael Pritchard, one of the greatest things that any community can do is not to teach tolerance, but to live tolerance. Not to talk respect, but to live inclusivity."
The unveiling of the garden was attended by all Horticulture students, as well as tutors and friends of Michael. They were also joined by his mother and sister, who officially opened the garden to staff and students.
Andy Castle, tutor in Horticulture at Walsall College, said: "We are saddened by the recent passing of Michael. He was an incredible student who was keen to learn, and was very popular amongst his peers and tutors.

All of our learners who have passed away have had an incredible impact on the college, making it a place that's a safe and enjoyable place to learn. It was only appropriate that we build a garden in their memory, in the place where they loved learning and meeting new people."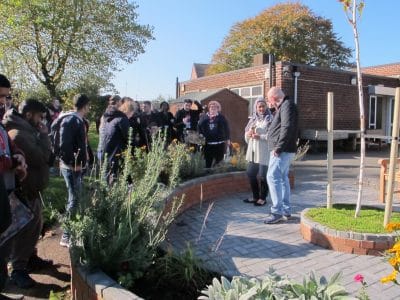 The 18-month project not only enabled student to do something special for their friends, but also helped to enhance their Horticultural skills and gain valuable experience.
Kam Kalirai, Senior Curriculum Leader at Walsall College, said: "The project has given our student the opportunity to work on a 'Real' project, and has helped them to develop a wide range of skills, including team work, confidence and communication skills.

Some of our Horticulture students have gone onto the start their own businesses, and the project has helped them to provide additional services to their clients, such as block paving.

We are incredibly proud of what our students have achieved. The Memory garden is a good way of remembering our students, including Michael, and the joy they have brought to the lives of our students and tutors."
Walsall College offers Horticulture courses to school leavers and adults looking to start or enhance a career in the sector.
For more information about enrolling on a course at Walsall College, please call 01922 657000.