Student Wins Inspirational Festival of Learning Award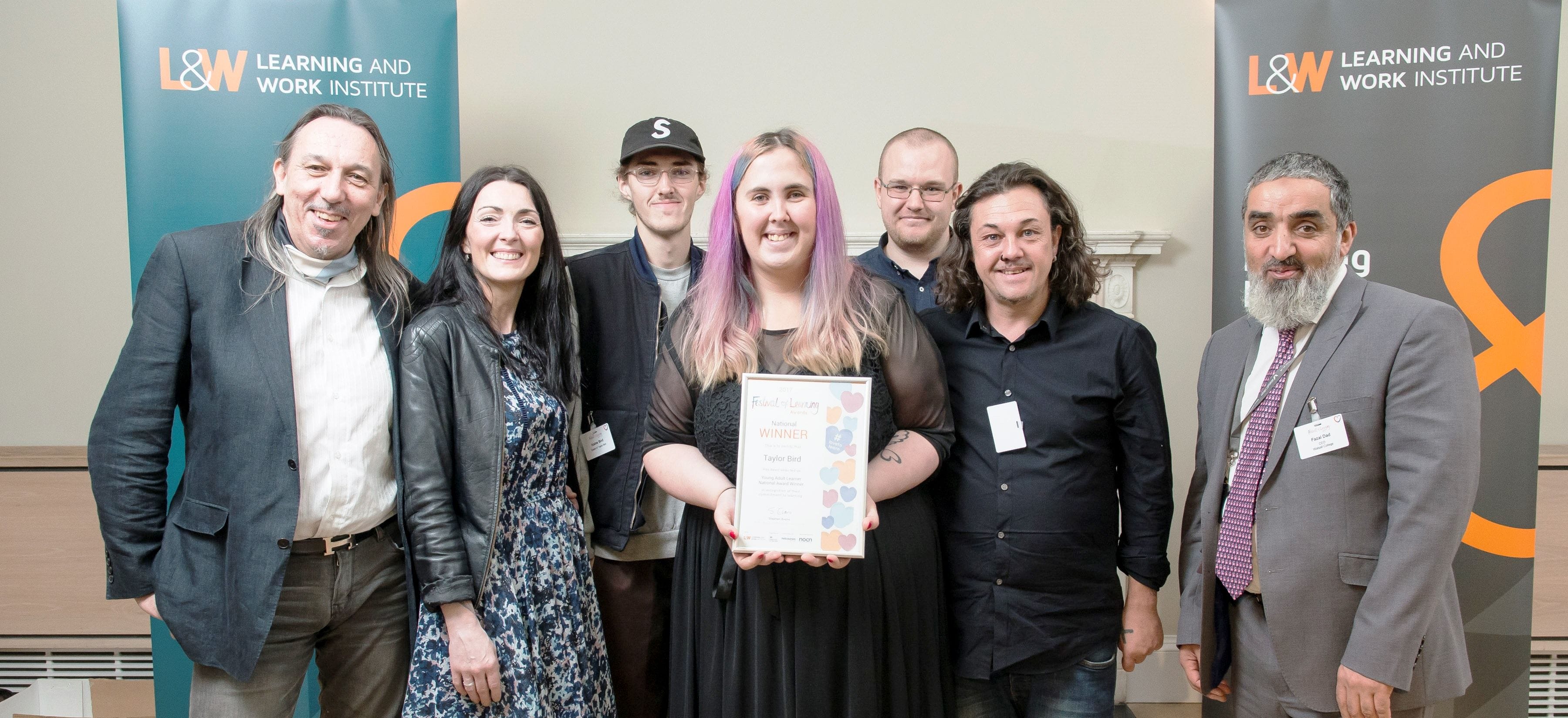 Walsall College BA Degree Level 6 Photography student, Taylor Bird has been announced as the winner of the Festival of Learning National Young Adult Award for her exceptional achievement in adult learning.
This award celebrates individuals between 18-25 years of age who, through learning, have transformed their own lives and the lives of their families, friends, their communities, and the places they work.
Taylor found school difficult and gained very few GCSEs. She was bullied at school because of her learning and physical disabilities. However, when she enrolled at Walsall College, Taylor discovered that her differences were accepted and she found a supportive environment where she could express herself.
Taylor joined Walsall College's Achieving Together programme before choosing a creative pathway and worked hard to complete entry level English and maths as well as Level 2 and 3 Art and Design. This led her to progress onto a photography degree; becoming the second person in her family to go to university. Taylor has set up her own photography business and plans to expand in the future.
Taylor says that learning has had a major impact on her life. She said: "I'm now a lot more confident in my own skills and this has helped to me find the right path, develop my communication skills and set up my own business."

"The personal journey Taylor has taken has been challenging and emotional but she has kept on going and worked extremely hard to achieve her goals," said her Photography tutor Ian Male, a lecturer at Walsall College.

Stephen Evans, Chief Executive at Learning and Work Institute, said: "Taylor's story reminds us that education comes in different forms and that our paths are not always decided for us at school. This award recognises Taylor's defiance at the barriers put in the way of her success. I hope many others will be inspired by Taylor's journey.

"Lifelong learning is crucial for all of us as jobs and society changes around us, and as the working population gets older. Festival of Learning is all about people being inspired by stories like Taylor's. We encourage everyone to get involved in learning and access Government support through the National Careers Service for information or Advanced Learner Loans for access to funding where it's needed".