NTS Tuning Solutions drives by Walsall College for an automotive masterclass
Specialist Mitsubishi tuner, NTS Tuning Solutions, came to Walsall College to deliver a masterclass to its Automotive students on the latest industry techniques in automotive tuning.
Simon Norton, Director at the Sheffield-based company, and one of his customers brought a vehicle to the campus to demonstrate engine mapping and engine management diagnostics to the students in the HNC Automotive cohort.
Engine tuning is an adjustment made to the internal combustion engine of a car, which is carried out to increase vehicle performance and the engine's power and durability.
The students were given a chance to carry out tuning, mapping and diagnostic processes on the vehicle to enrich their experiences and studies on the course. The day was also part of the students' assignment, showcasing their knowledge of the automotive industry.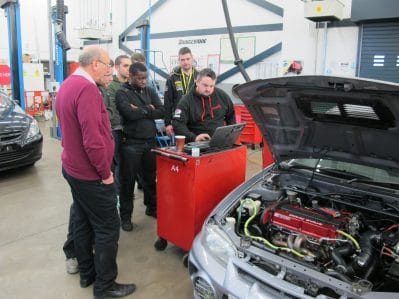 Simon Norton said: "I wanted to share my passion for tuning with these students, to help them with their assignments and show them the ins and outs of engine ECU calibration, hopefully clarifying and debunking that it's not a mysterious black art."

Mark Pemberton, Curriculum Manager in Automotive, said: "We invite employers to the college to hold demonstration to our students, ensuring they gain as much exposure to the industry as possible. Having the skills and knowledge needed to build a successful career is extremely important, so it was a privilege to have NTS Tuning Solutions with us to show our HNC Automotive students how to carry out a number of repairs on an actual car.

Feedback from students were overwhelmingly positive, and many have said that having an employer come into college really enhanced their understanding of the automotive industry."
Running a masterclass is a good way to train students who are keen to develop the skills and knowledge to find employment within your sector.
If you're interested in running a masterclass with us, please contact Walsall College on businesstrainingsolutions@walsallcollege.co.uk