England Head Coach delighted as Walsall College receives free Futsal starter pack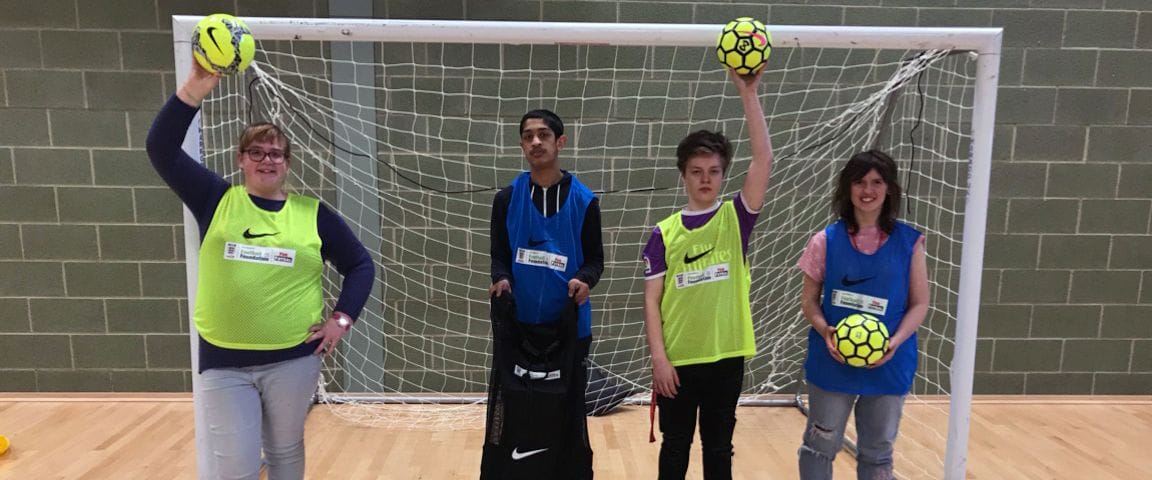 Walsall College, are all geared up to start playing Futsal after receiving a free starter pack – news that has delighted Michael Skubala, England Futsal Head Coach.
The pack contains a set of Futsal goals, balls, disc`s and bibs, which will help the College deliver Futsal sessions for students, staff and members of the community.
The starter packs are designed to adapt existing sports halls, playgrounds and other hard surface facilities to make them Futsal-ready. The packs came courtesy of a £300,000 Futsal scheme, which is funded by The FA and delivered by the Football Foundation.
Futsal is a five-a-side game, normally played on a flat indoor pitch with hockey-sized goals and a size four ball with a reduced bounce. The exciting, fast-paced game is played across the world and is officially recognised by both UEFA and FIFA.
Regarded as an important and growing game, it is hoped that the provision of equipment and courses will lead to the development of more Futsal players, leagues, competitions and facilities across the country.
The nature of the game places a large emphasis on technical skill and ability in situations of high pressure, and is subsequently an excellent breeding ground for football competencies that can be translated into the 11-a-side format of the game.
As well as delivering the Futsal scheme, the Football Foundation delivers grow the Game and also the Premier League & the FA Facilities Fund on behalf of the Premier League, The FA and the Government, through Sport England. Since 2000, the Foundation has supported over 15,000 grassroots projects worth more than £1.4bn.
Michael Skubala, England Futsal Head Coach, said: "A big well done to Walsall College for securing a Futsal starter pack – they have a bright future ahead of them now! We want to get more people playing the sport for the love of it and who knows; perhaps we'll see some future international players unearthed as a result. Futsal is growing all the time and The FA, with the help of the Football Foundation, is dedicated to increasing its importance and popularity further For All."

Mark Howard, Football Academy Manager, at Walsall College, said: "It's great for Walsall College to have this pack, as it ensures that we can deliver Futsal at the highest level to anyone wishing to get involved. We would like to thank the FA and Football Foundation for the original investment."