Walsall College student kicks off a career in professional women's football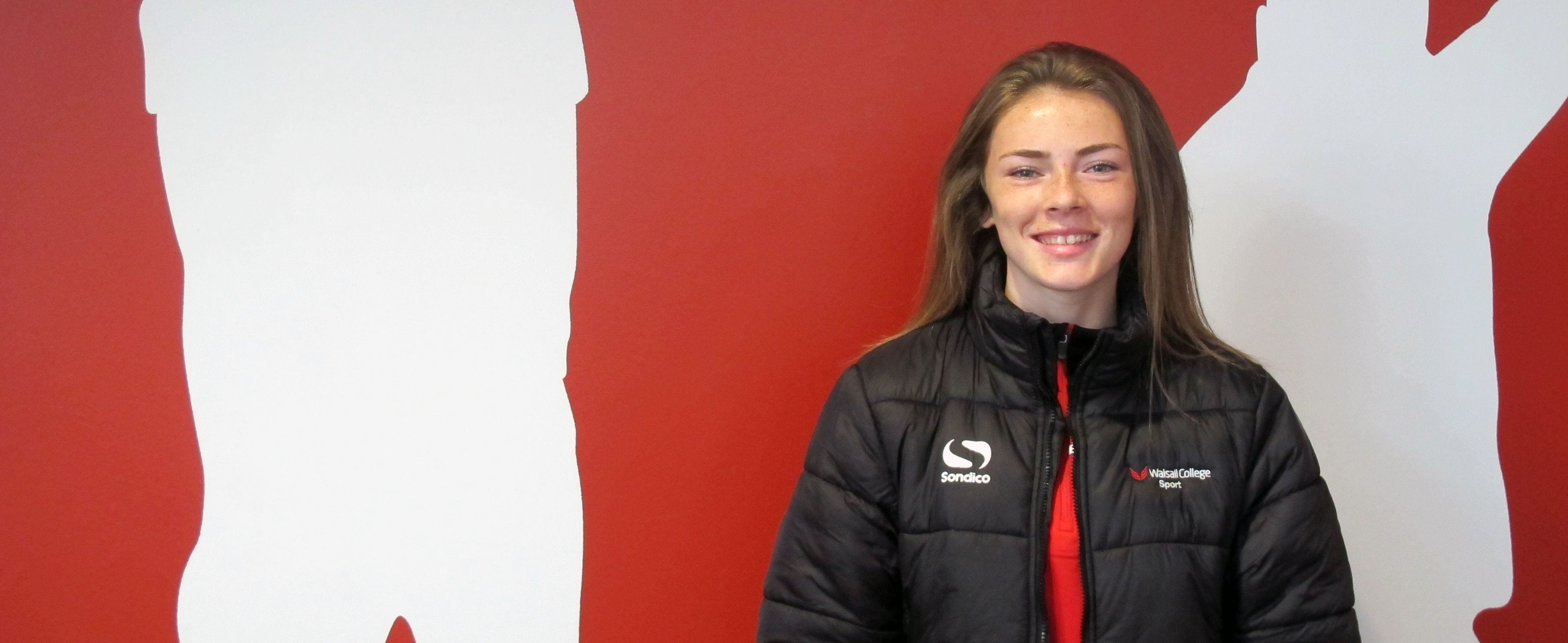 Walsall College student Chloe Williams is kick-starting an exciting career in national football, as she is now playing for Wales in the women's under 19s.
The 18-year-old, who is studying for a Level 2 Diploma in Sports Coaching, was encouraged to attend a trial with the Welsh team by her tutor last July.
After a successful training session, Chloe was put through to the next round of training, which has led to her becoming a member of the national team. And it's a career move that's set to take her around the globe.
"The training camps have been great! After I got into the Welsh team, I was invited to go to another training camp in Russia, which was a pretty amazing experience. My last camp was over half term and I played against Kazakhstan and England in two separate games. I'm hoping to get picked for another camp again for Switzerland next month."
Whilst playing nationally is a new career avenue for Chloe, playing locally certainly isn't. She has been playing for Wolverhampton Wanders Women's Football since she was 15.
"Playing for Wales is different to playing for local clubs. It's more professional and the training is more challenging. But I really enjoy it!"
Chloe began playing football when she was just 6 years old. She joined the Great Wyrley Football Club, and then moved to other football clubs, including West Bromwich.
"I've always wanted to be a footballer from as young as I can remember. When I'm older, I'd love to continue playing football and maybe get into coaching, so the course I'm doing now at Walsall College will be really useful."
Things are looking even brighter for Chloe, as the Football Academy manager Mark Howard has nominated her to take part in the English Colleges' football tournament, which only accepts the best talents across the UK.
The English Colleges is part of the AoC Sport, the lead organisation for college sport and physical activity. The membership organisation aims to support young people who are in education to develop a wide range of skills, including self-discipline, resilience, positive decision-making, maintaining a healthy lifestyle and respect for those around them.
The final phase of the English colleges' trials takes place on 18th November at Sheffield University. Officials will select 24 players to go on a two-week tour in Barcelona to play against local teams in Spain. The team will also play against Wales, Scotland and Ireland national colleges teams.
Mark Howard, Sports Development Co-ordinator at Walsall College's Academy Health Club said: "My role within the college is to put through who I think would hold their own at English College's level. Chloe was put through and was chosen to go through the second trial, which is this Saturday.

Even though she plays for Wales, she can still play for the English Colleges', as she is studying a course at an English college."
Mark saw potential in Chloe when she played football during her first year at Walsall College.
"I went to the first game she played at the college. Within two or three minutes, she stood out.

To play for Wales in the under 19s, you need to have exceptional talent, as professional football is a very competitive and difficult profession to get into to. For Chloe to play for Wales at her age, is amazing, and just shows what incredible abilities she has. She stands out in games and that's why she is where she is now."