Spotlight on Talent : Tyron Marshall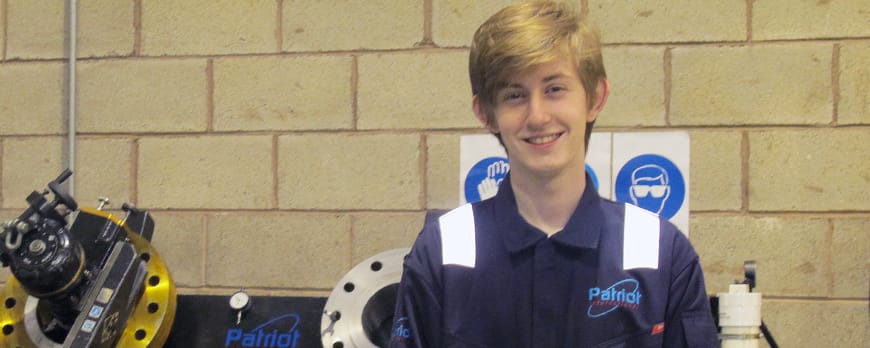 "Tyron has the right attitude we look for in candidates. His application to our training programme shows that he has a very good understanding about our industry."
Studying for a BTEC Level 3 in Engineering has helped Tyron build a promising career at Patriot International, a specialist pipe work equipment provider.
The 18-year-old's journey began when he undertook a one-week work placement at the Oldbury-based company, as part of his course at Walsall College.
"I did a 36 hour placement at Patriot, which was a great experience. I was introduced to Patriot's range of equipment and got some hands on experience with some of it. There was a whole unit on health and safety, I was shown how to set machines without putting myself and others at risk."
Through his placement, Tyron learnt about Patriot International's SPEAR programme, which offers work training to those who would like a career at the company. Keen to enter the engineering profession, Tyron enquired about SPEAR and was invited to apply.
"After my work placement ended, my manager asked me for feedback.  That was when I enquired about SPEAR. I did some research on how to impress an employer and used that information to help me write my application form.
"I wrote what I thought about the company, what I could offer them and what they could offer me.
My tutor at college was happy to look through my application form.  I received support in making sure it was impressive enough to get me into the training programme."
Tyron began the SPEAR programme after he finished his course in June..
"I'm absolutely loving the programme! SPEAR is a hub of knowledge. I've been mentored by a number of site technicians who go offshore on different rigs. They have shared their experiences with me about life on site – both the good and the challenges.  It's very reassuring to know I have that team back up. The technical knowledge and training I've been exposed to is invaluable."
The ambitious trainee plans to become a site technician, but is open to other opportunities at the company, depending on the outcome of his training.
"I'd like to be a site technician.  The aim of the programme is to find out where your talents lie and it'll push you towards the avenue that's best suited to you. The possibilities are endless and it's exciting to be part of Patriot International."
John Hampson, Training Academy Manager at Patriot International, said: "Tyron has the right attitude we look for in candidates. His application to our training programme shows that he has a very good understanding about our industry and is willing to learn and grow with us.
The company is now set to welcome 15 work placement students from the college over the course of the year to its premises.
"We recognise that these students are the key to the future of our industry. If Patriot can play a part in helping people through their education and preparing them for work, then we will be leaving a legacy for our future," John said.