Spotlight on Talent: Imath Uddin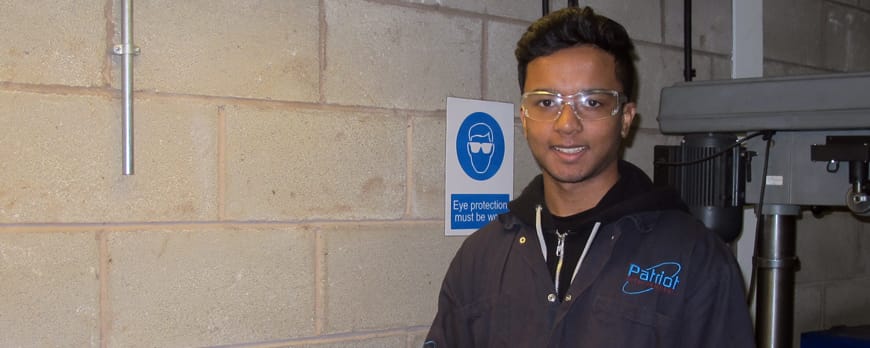 Imath Uddin
Engineering Level 1, 2 and 3
"Imath showed himself to be incredibly able during his work placement. We were impressed with the skills, knowledge and personal development he had acquired from Walsall College"
Patriot International have welcomed on board a young new talent from Walsall College. The 20-year-old was studying for a Level 3 Engineering qualification when he undertook a one-week placement and impressed Patriot International.
"I really enjoyed the work placement! I got along with the people and I had the opportunity to use the skills and knowledge I gained from my engineering course in a real work environment. I knew how to use the equipment that Patriot have because of the training I received on my course."
Patriot International was so impressed with Imath's performance and work ethic, that they invited him to an interview for their SPEAR training programme. The SPEAR programme offers work training to college students who would like to develop a career with Patriot International.
"I was invited to a second interview a couple of weeks later by Andy Simon – Project Engineer, which led to the SPEAR programme. I've learned a lot over the last couple of months – it has built my confidence, skills and professionalism. I have bonded with so many people, and I've developed my team working skills through this."
The trainee has plans to become a site technician or a project engineer, and commends Walsall College for helping him to get to where he is.
"My first goal is to be a site technician. I'm developing my skills through the SPEAR programme, which aims to see which engineering role I am most suitable for. If I'm better suited to being a project engineer, then that's an avenue I'm very happy to build a career in.
My time at Walsall College has been really valuable. They provided the learning I needed for where I wanted to go. The staff boosted my confidence by helping me hone my skills and gave me advice on how to be work ready."
John Hampson, Training Academy Manager at Patriot International, said: "Imath showed himself to be incredibly able during his work placement. We were impressed with the skills, knowledge and personal development he had acquired from Walsall College, which made him a great choice for our training programme."
The company is now set to welcome 15 work placement students from the college over the course of the year to its premises;
"We recognise that these students are the key to the future of our industry. If Patriot can play a part in helping people through their education and preparing them for work, then we will be leaving a legacy for our future," John said.
Work placement opportunities benefit both students and employers. It gives students a chance to apply their skills and knowledge in a real-life work environment, whilst enabling employers to find new talent.