Spotlight on Talent: Danny Degville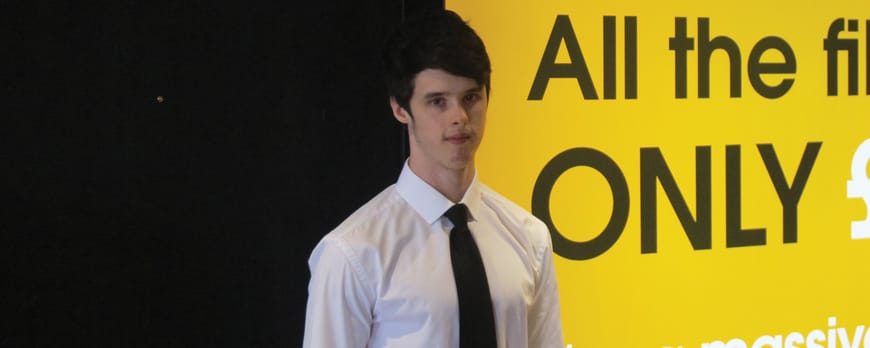 Danny Degville
Supported Internship
"We really took to Danny's communication skills, drive and work ethic when we interviewed him. Throughout his placement, he has shown himself to be hard working and punctual."
Studying for a Supported Internship course, Danny Degville has made a 'reel' go at his chances at Walsall College, as he is now a Cinema Assistant at the Light Cinema.
The Supported Internship aims to give people with learning difficulties the opportunity to gain valuable experience with an employer. Key Supported Learning staff work with employers and students throughout, with the aim of students progressing into employment following their internship.
Throughout his course, Danny attended workshops and teaching sessions to develop his confidence and employability, including his maths and English skills. The 20-year-old undertook a six-month placement at the cinema as part of his course. Impressed with his positive work ethic, his employer offered him a part-time job as an assistant and an usher.
"I had to attend a formal interview for my placement at the Light cinema. My tutors were of great help – they told me how to present myself and what the employer is looking for when interviewing candidates."
Danny's tutors supported him in his work ready journey, inviting employers into the college to help students develop their employability skills. With a job under his belt, Danny now plans to progress in his career and one day gain a position as a team leader.
"I'm really happy to be where I am. I've learnt a lot at Walsall College and at the Light Cinema, which has helped me to get to where I want to be. Now I plan to work my way up and become a team leader."
Joanna Twardowska, General Manager at the Light Cinema, said: "We really took to Danny's communication skills, drive and work ethic when we interviewed him. Throughout his placement, he has shown himself to be hard working and punctual, with an aptitude to connect positively with others in the building. We're really amazed with how far Danny has come, which really shows the great work Walsall College do in preparing their students for the world of work."