Spotlight on Talent: Crayg Ward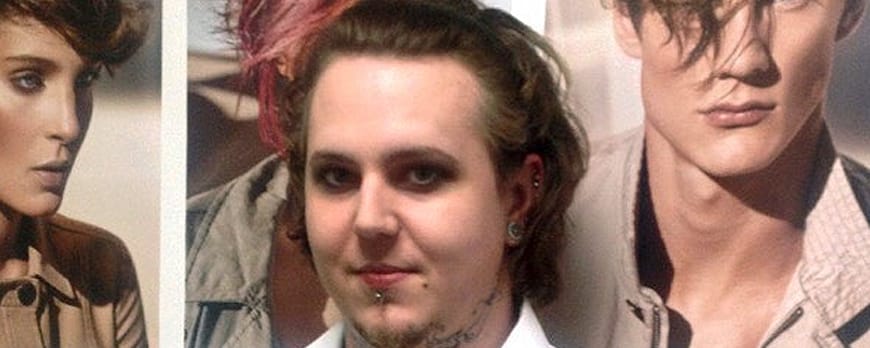 Crayg Ward
Hairdressing Apprenticeship at Levels 1, 2 and 3
"I'm proud of what I have achieved, and I wouldn't be where I am today if it wasn't for Walsall College, who helped me on those first steps into my dream career."
Eight years ago, Crayg Ward successfully completed a Hairdressing Apprenticeship with Walsall College. Now, he owns a successful hair salon in Cannock. The 27-year-old undertook a Hairdressing Apprenticeship at Levels 1, 2 and 3 at the college in 2006, which was where his journey really began.
"The curriculum at Walsall College gave me the skills I needed to provide hairdressing services to my clients. I was introduced to a wide range of industry-level methods and techniques, which was really useful in helping me step into the hairdressing industry."
Crayg started his employment, and then apprenticeship, at Inspirations, a hair salon in Hednesford, which gave him 'the experience and self-motivation he needed to become the best he could be.
"I started two businesses after that. Going mobile was my first step into self-employment, giving me the business experience and determination to strive for more."
After gaining a Foundation Degree in Small Business Salon Management at university, Crayg decided to set up his next business.
"When I completed my degree course, I was fully equipped with the knowledge to set up and run a salon. With financial help from Lloyds Bank, the biggest salon in Cannock was born!"
Crayg was inspired by the gaps he saw in the local hairdressing market, and saw an opportunity to open a salon 7 days per week, which offers a unique brand and full disability access.
"I found that archaic opening hours no longer suited clients, so I set up a salon that opens 7 days with 4 late nights up to 9pm.
Many salons use a lot of the same brands governed by popularity. When I opened my own, I sought to be the UK's first and only Framesi exclusive salon, which is the number 1 brand across Europe.
"A lack of disability access grabbed my attention, so my salon is not only fully accessible, but we can offer every service and treatment to wheelchair bound clients."
Many salons in the Cannock area have a 'village' look, so Crayg decided to set his salon apart from the crowd by giving it 'an image worthy of the city', but offering local, affordable prices.  He also identified a need to fill the skills gap in the local hairdressing industry, and provides training to his team that includes treating hair and scalp disorders.
"The shear lack of skill and hair care was virtually across the board, so I made sure I employed the best technical and theoretical stylists. With our 'Hair and Scalp Care' approach, we're able to help people suffering with hair and scalp disorders using the full range of Farmesi's products, and in turn, allowing our customers to pursue services and treatments that they would never have been able to have before."
Since opening his own salon, Crayg's career aims have changed and he is looking to one day open his own academy.
"My original aims were to train to the maximum possible, and to open a chain of salons worthy of competing with Francesco's or Toni and Guy.  I had achieved my first goal within a couple of years, earning the title of 'Master Hair Technician and Hair Therapist' – from training to master level in cutting, colouring, texture and extensions, and then training in Trichotherapy.
My second goal changed after opening my salon. I was happy with having only one salon, but then I wanted to pursue a career in education, with the possibility of opening an academy, and passing on the extensive knowledge I have obtained over 12 years in the industry, also applying the same "fix the flaws" approach to education that I did when I opened my salon."
In 5 years' time, Crayg would like to see himself with broader qualifications, which will help him train 'the next generation of hairdressers.'
"I would like to see myself with a Trichology qualification, which will equip me with the knowledge and skills to diagnose and treat a number of hair and scalp problems, such as Hair Damage, Follicle Asphyxia, Alopecia, Pityriasis, Pruritus and Seborrhea.
"I would also like a qualification in Teaching and Education, with a very successful salon and my own academy; training and advancing the current and next generation to become the best hairdressers.  I'm proud of what I have achieved, and I wouldn't be where I am today if it wasn't for Walsall College, who helped me on those first steps into my dream career."