Spotlight on Talent: Adam Doughty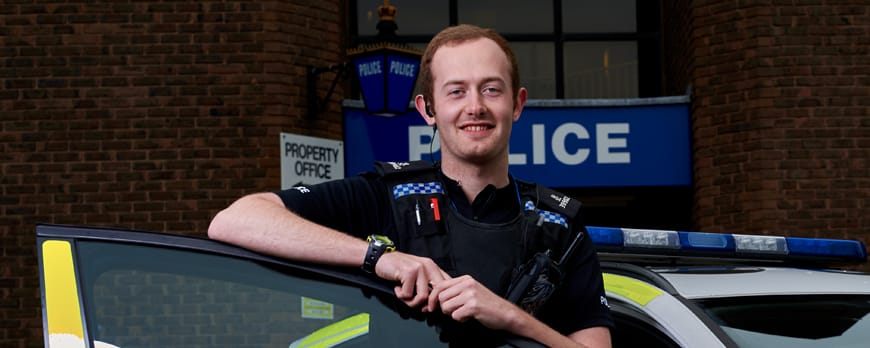 "I'm currently a special constable, and with good grades behind me, I'm perfectly placed for my next step – applying for a career in the police force."
Adam Doughty
Studied BTEC Level 5 HNC Diploma in Public Services (TOP-UP) (Pearson), now working as a Special Constable for West Mercia Police
A foot in the door
I'm currently a special constable, and with good grades behind me, I'm perfectly placed for my next step – applying for a career in the police force. My long-term career goal would be to get into the police, becoming a special gives me the foot in the door and the insight into the job. The process involves an interview, written assessment and fitness test, followed by a 16-week part-time training course.
Learning to communicate better
The major skill I have taken away from college would be bettering my communication, it has improved drastically. Within the police, communication is the most important aspect of the job – you may be talking to a victim of a crime, a criminal, or even just the general public, and knowing how best to deal with these situations greatly reduces the risk of getting into any danger.
A varied and interesting course
We also had the opportunity to visit a variety of places linked closely to the course such as police stations, community safe houses and a multi-day visit to Auschwitz. We also had the opportunity to work alongside West Midlands police in order to complete our research project module.
Throughly committed teachers
The course can be hard at times but the friends you make, the things you do and the encouragement from the teachers all make the course an enjoyable experience from start to finish. From day one, you knew the teachers would have helped you in any way possible. The teachers would quite happily talk or discuss things with you no matter what time you came for help, they were 100% committed to getting you the best grades possible and this was enhanced by the various different facilities that Walsall College offered.