Spotlight on Talent: Halima Khannom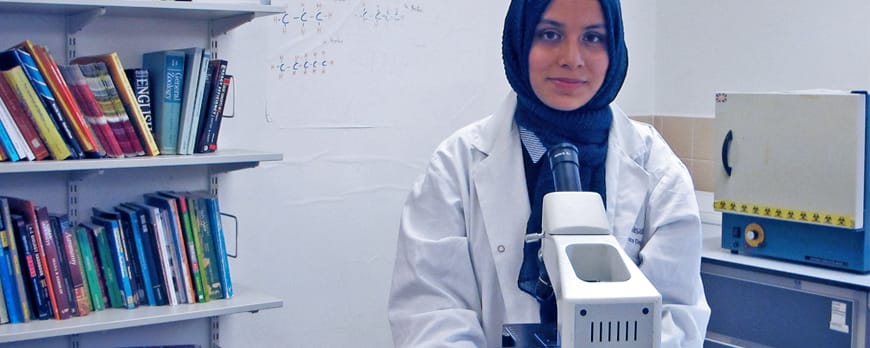 Every year, people across the country wear pink ribbons, hold bake sales and run marathons to raise funds to fight against cancer. And Halima Khannom has her sights set on a career to find treatments and cures so more cancer patients can survive.
Halima, who is currently studying an Extended BTEC Diploma in Applied Science, undertook a placement at a cancer research laboratory to gain work experience alongside her studies.
The placement came about when Halima spoke to her tutor, and expressed an interest immunotherapy – a type of cancer treatment that boosts the body's natural defences to fight cancer.
"My placement was conducted at Replimune Ltd in Oxford. I worked alongside Dr Suzanne Thomas who discovered the first immunotherapeutic treatment for skin cancer using a Herpes Simplex Virus – a virus that commonly causes cold sores.
Halima's placement was a "surreal experience", which gave her an idea of what her future as a scientist would look like.
"It was such an amazing experience to finally meet the scientist I had been reading about. Someone who had produced ground-breaking advancements in the world of cancer research.
It was a thrilling, yet very educational experience as it gave me perspective into the day to day life of a real scientist. Dr. Thomas was very helpful and gave me a lot of useful advice on how to build a career in Science and thrive in it."
The placement enabled Halima to learn new skills and techniques that will prove useful at university and future work.
"Learning these new techniques and skills gave me a great insight into what I can expect to be doing at university. I also learnt about how regulatory procedures and governing bodies have a massive impact on how the laboratories operate.
Lastly, I learnt about what characteristics make a good scientist and how to build a good career to work myself up the ladder. Dr. Thomas taught me that perseverance and hard work is key – there will be constant set-backs within my career, things will fail, procedures won't work and I will inevitably make mistakes but as long as I work hard and believe in myself, I will prosper."
Halima is taking more steps towards her career, after accepting a place at the University of Warwick to study Biomedical Science.
"My career aims are to help develop cures and treatments for life-threatening diseases such as cancer using bio-engineering technique. I would also love to do a PHD and one day lead my own research team."